China, Nigeria join hands during difficult time: ambassador
Updated: 2014-05-12 13:34
(Xinhua)
Comments
Print
Mail
Large
Medium
Small
ABUJA - Chinese Premier Li Keqiang's recent visit to Nigeria at such a challenging time for the West African country has helped consolidate bilateral ties and deepened mutual trust, the Chinese ambassador to Nigeria, Gu Xiaojie, said Sunday.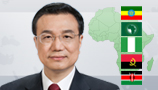 "The visit came at an extremely difficult time for Nigeria. Premier Li braved the security threat in the country to show China's strong support to the Nigerian government and its people," Gu said in an interview with Xinhua.
Li paid an official visit to Nigeria from Tuesday to Thursday, during which he also addressed a World Economic Forum (WEF) on Africa.
Nigeria has faced severe security issues since March, witnessing two suicide bombings in its capital and the abduction of more than 200 school girls by militant organization Boko Haram, which provoked international condemnation. The group has also threatened to launch more terrorist attacks in Abuja ahead of the WEF meeting.
While leaders of some countries canceled scheduled trips and the ability of the Nigerian government to keep the country safe has been questioned by some, Premier Li chose to press ahead with his visit, reminding Ambassador Gu of late Premier Zhou Enlai, who insisted on visiting Ghana at a time of turmoil 50 years ago.
Nigerian President Goodluck Jonathan met Premier Li three times during the trip, saying that China is a reliable friend of Nigeria, Gu said.
During Li's visit, China and Nigeria agreed to deepen their pragmatic cooperation in key fields so as to strengthen their strategic partnership, Gu said, adding that the Nigerian side welcomed Li's proposal in his speech at the African Union (AU) headquarters on the China-Africa cooperation framework.
The two countries agreed to expand cooperation in railway, aviation, agriculture, investment, hydropower and energy, with 13 documents being signed.
At the WEF on Africa, Li proposed that China cooperate with African countries to build three transportation networks including high-speed railways, expressways and regional air travel, which resonated among African leaders, Gu said.
The premier's promise of no political conditions attached to China's assistance to Africa and noninterference in the internal affairs of African countries is also welcomed by African leaders, the ambassador added.
Li returned to Beijing Monday morning from his first Africa trip as premier, which took him to Ethiopia, Nigeria, Angola and Kenya.