Sino-Angolan cooperation grows
Updated: 2014-05-10 02:53
By ZHAO YINAN in Luanda, Angola and LI XIAOKUN in Beijing (Xinhua)
Comments
Print
Mail
Large
Medium
Small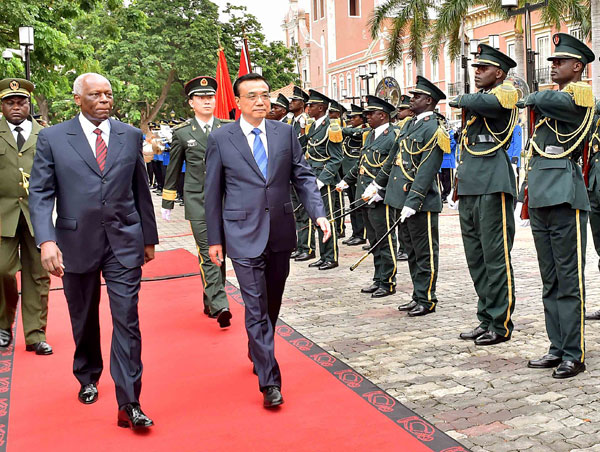 Premier Li Keqiang, accompanied by Angolan President Jose Eduardo dos Santos, inspects a guard of honor at the presidential palace in Luanda on Friday. [Photo/Xinhua]
Beijing, Luanda sign a slew of infrastructure and finance deals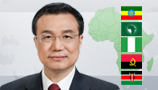 China signed a series of cooperation deals with Angola on Friday covering infrastructure, finance and investment, expanding exchanges with its second-largest oil supplier to areas other than natural resources.
Premier Li Keqiang and Angolan President Jose Eduardo dos Santos officiated at the signing ceremony after holding talks at the president's residence. Under the deals, China will help Angola build a commercial logistics system. It also agreed to offer medical equipment to the country.
A joint working group will be set up to guide the development of bilateral cooperation on infrastructure, finance and in various other areas.
Li arrived in Luanda, the Angolan capital, on Thursday from Nigeria on the third leg of his four-nation African tour.
Commerce Minister Gao Hucheng hailed the signing of the agreements, saying Beijing would deepen cooperation on agriculture with Luanda. It would encourage Chinese enterprises to become more involved in infrastructure construction in Angola, transfer its technology to the country and train local people.
Gao also said that over the years, Chinese investment and financial aid had helped Angola to build more than 130 infrastructure projects.
Since the end of a civil war in 2002, Angola's economy has grown rapidly thanks to the resumption of oil exploration and huge reconstruction programs.
Agence France-Presse reported on Tuesday that apart from China, the United States is also seeking to forge stronger ties with Angola.
Li's visit came just three days after Angola welcomed US Secretary of State John Kerry.
"The intention of (US President) Barack Obama, just like China, is to diversify trade with Angola to deepen cooperation with the country and, more generally, with Africa," the news agency quoted Vicente Pinto de Andrade, an economics professor at Angola Catholic University, as saying.
The article said Chinese investment and financial services "have made possible a massive construction boom in Angola, including new airports, a football stadium for the African Cup it hosted in 2008 and hundreds of kilometers of roads, as well as new towns. More than 300,000 Chinese workers have poured into the country in the process".
Jose Carlos Gomes, president of the railway society in the Angolan town of Benguela, where 1.3 km of track has been renovated by China's CR-20 construction group, said, "In the past, neither the Americans nor the Europeans wanted to help. Only the Chinese responded to our call."
Joao Bernardo de Miranda, Angola's former minister of external relations, told Chinese media that among Angola's partners, many Western nations had only eyed the country's energy sector, without paying due attention to social and economic development.
He said China had played an unprecedented role in Angola's reconstruction.
"Chinese enterprises and friends came and made great efforts when Angola needed the help most," he said in an interview published in People's Daily. "After the civil war, cooperation with China is Angola's biggest achievement."
China's Ambassador to Angola Gao Kexiang wrote in the newspaper earlier this week that before he went to the African nation he had heard of criticism from other countries about Beijing's cooperation with Luanda.
However, after seeing the benefits of this cooperation, Gao said he had dismissed the accusations as groundless.
The ambassador said cooperation on energy between the two countries had tapped opportunities for other nations in energy exploitation.
Two-way trade between China and Angola reached $35.1 billion in 2013, a 50-fold increase from the start of the century, and accounted for 40 percent of Angola's total foreign trade last year.
Angola is China's second-largest oil partner after Saudi Arabia. It is also China's second-largest trade partner in Africa. China is Angola's largest trading partner, energy importer and its main source of investment.