Nigerian singer enjoys a musical adventure
Updated: 2014-05-08 07:10
By Xinhua (China Daily)
Comments
Print
Mail
Large
Medium
Small
Just a few years ago, Uwechue Emmanuel, a Nigerian-born singer better known by his stage name Hao Ge, could not imagine he would one day emerge as one of the most notable foreign singers in China.
He came to China to learn Peking Opera and, after years of daily practice, grew to be an experienced singer in a traditional art difficult to master even for local people.
Rising to fame when he came in second in China's singing competition "The Road to Star" in 2006, Emmanuel saw his career flourish in Beijing and has made a life for himself in the city ever since.
Although Emmanuel realized the language barrier would be an issue when he arrived, he saw his initial trip to China as an adventure to a mystical nation and a chance to continue working on his passion.
"I came to China to practice music, which is the love of my life," he told Xinhua in a recent interview via e-mail, and he joked, "I was intrigued by the fact that not everyone in China practiced kung fu, because that was the impression that I had initially."
However, communication did pose a challenge, and his early days in China were the toughest for Emmanuel. Arriving with so much enthusiasm for his new life, he found himself unable even to order food in a restaurant.
"I have to learn and understand Chinese, and the culture of the local people. So the period of learning the language and culture was basically the most difficult time," he recalled.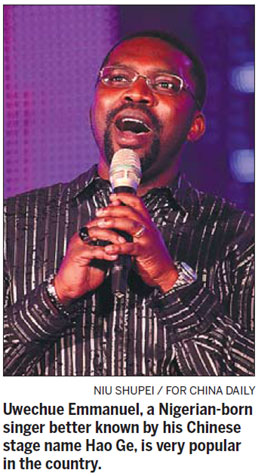 Music, on the other hand, came more easily. Chinese traditional music and folk songs are all melodically oriented, which is a very attractive aspect of Chinese music, Emmanuel said. Although tonal differences are important, the fact that music is a thing of melody makes it less difficult to learn, he said.
His vivid performance as Bao Gong, a judge character in traditional operas, greatly impressed Chinese audiences. The character is often portrayed with a dark face and a white crescent on his forehead.
"I do not have to (wear) makeup because of my dark skin. I only need an engraving of the moon on my forehead," Emmanuel said.
Besides Beijing Opera, Emmanuel is fond of paper cutting, another Chinese art, in which paper is cut into intricate images to decorate doors and windows.
He is determined to learn not only the language, but also the diversified Chinese culture.
Emmanuel said China and Africa have a lot in common and should further promote ongoing cultural exchanges so that generations old and new can know more about both.
The richness and diversity of Nigerian culture, for instance, is a manifestation of the socio-cultural differences of the more than 250 ethnic groups in the country, he said.
"Africa is a large continent," he noted. "Africans have their own regional culture and black cultural beliefs, loosely based on old ancient things, and most have been changing over the hundreds of years."
As a Nigerian ambassador of culture to China, Emmanuel said he was obliged to introduce Nigerian culture to the country, and he sees his career as a part of that.
"I intend to continue to make music and work hard at it, so that my music can affect this generation positively," he said.