China, UK to track abducted Nigerian girls
Updated: 2014-05-08 08:27
(Xinhua)
Comments
Print
Mail
Large
Medium
Small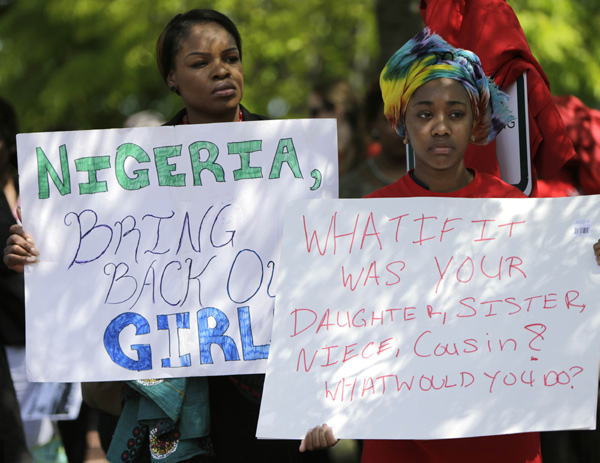 Protesters hold signs during a march in support of the girls kidnapped by members of Boko Haram in front of the Nigerian Embassy in Washington May 6, 2014. Suspected Boko Haram gunmen kidnapped eight girls from a village near one of their strongholds in northeastern Nigeria overnight, according to the police. [Photo/Agencies] 
LAGOS -- China and Britain has offered to deploy its advanced tracking technologies in support of Nigeria's security agencies currently engaged in the search and rescue operation of abducted school girls, a spokesperson said Wednesday.
Reuben Abati, the Special Adviser to the Nigerian President on Media and Publicity, told a news conference in Abuja, that China had offered to assist in the effort to rescue the abducted girls.
"In talks with President Jonathan earlier today, Premier Li Keqiang promised that his country will make any useful information acquired by its satellites and intelligence services available to Nigeria's security agencies," he said.
Chinese Premier Li Keqiang is on an official visit to Nigeria. "Premier Li Keqiang assured the president that China will support Nigeria's fight against terrorism in every possible way, including the training of military personnel for anti-insurgency operations, " Abati added.
Abati spoke on the efforts by the government to locate and rescue the girls abducted from the Government Girls Secondary School in Chibok of northeast Borno state.
He also said that upon request by President Goodluck Jonathan, the British Prime Minister, David Cameron, gave the commitment to deploy his country's intelligence gathering resources in support of the search and rescue operations.
He said the Nigerian leader spoke with the British Prime Minister on phone after meeting with Chinese Premier Li Keqiang.