African Union HQ a symbol of cooperation
Updated: 2014-05-06 07:20
By Yao Jing (China Daily)
Comments
Print
Mail
Large
Medium
Small
Surrounded by small houses with sheet iron roofs in the plateau city of Addis Ababa, capital of Ethiopia, the African Union's new headquarters has become one of the city's most conspicuous and modern buildings.
Fully funded by the Chinese government and built by the China State Construction Engineering Corp, the $124 million building is China's largest aid project on the continent since the construction of the Zambia-Tanzania railway in the 1970s.
The project was completed at the end of 2011 and handed over in 2012.
According to the white paper on China-Africa economic and trade cooperation published by the Information Office of the State Council, China has encouraged enterprises and financial institutions to participate in Africa's infrastructure construction and will continue to deepen exchanges and cooperation in related fields.
In 2012, Chinese enterprises completed construction contracts worth $40.8 billion in Africa, 45 percent more than in 2009, said the paper. From 2009 to 2012, Africa remained China's second largest overseas contract market.
Meanwhile, from 2010 to May 2012, China approved concessional loans worth $11.3 billion for 92 African projects, the white paper said.
China Road and Bridge Corp, which entered Ethiopia early in 1998, has built on its advantages with its core business of roads.
"In the past 15 years, China Road and Bridge has built more than 2,000 km of roads," said Wei Qiangyu, deputy general manager of the company's Ethiopian office.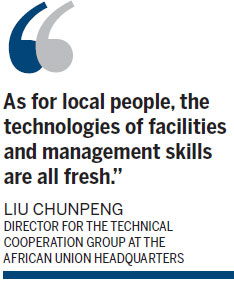 Ethiopia-China Friendship Avenue, located in the center of the capital, was a project for the company in 2004. China Road and Bridge is now working on the Bole Ring Road RBT Meskel Square Road Project, the Addis Ababa-Adama Toll Motorway and Addis Ababa Bole International Airport.
Despite such construction, Chinese enterprises are paying more attention to soft aid, such as helping local people gain knowledge about how to operate and manage a project after it is finished.
Large Chinese communication companies in Africa have cooperated with 1,200 local subcontractors and indirectly provided more than 10,000 job opportunities.
As a latecomer to the marketplace, China State Construction Engineering Corp is focusing on teaching local workers how to manage and maintain sophisticated projects in the AU headquarters.
"As for local people, the technologies of facilities and management skills are all fresh. The training program is somewhat difficult," said Liu Chunpeng, director for the technical cooperation group at the AU headquarters.
Furthermore, Chinese companies are digging out opportunities in the marketplace.
"Although we have missed the prime period for road construction, we are looking forward to the budding housing market in Africa," said Liu.
China Road and Bridge also has big plans, such as developing commercial property or cooperating with local governments to establish integrated planning companies, according to Wei.
yaojing@chinadaily.com.cn