Chinese premier arrives for Ethiopia visit
Updated: 2014-05-04 20:03
(Xinhua)
Comments
Print
Mail
Large
Medium
Small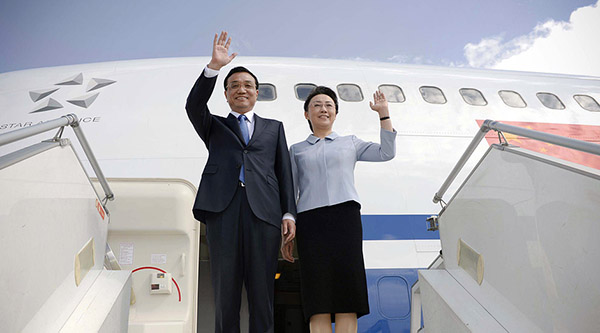 Chinese Premier Li Keqiang and his wife Cheng Hong arrives in Addis Ababa, capital of Ethiopia, for an official visit, May 4, 2014. [Photo by Liu Zhen/China News Service]
ADDIS ABABA - Chinese Premier Li Keqiang started an Africa tour on Sunday with his arrival in Ethiopia, where he will also visit the headquarters of the African Union (AU).
Ethiopia is the first leg of Li's ongoing four-nation Africa tour, his first to the "Land of Hope" since he took office last year and the latest stroke of the frequent high-level diplomacy between the Asian giant and the promising continent.
"I am looking forward to an in-depth exchange of views on bilateral issues and issues of common concern with Ethiopian and AU leaders, and ready to promote further development of relations and cooperation between China and Ethiopia as well as the larger AU," the Chinese premier said upon his arrival here.
He said that as both sides are committed to a profound friendship and the principles of sincere amity, mutual benefit and win-win outcome, they have made across-the-board achievements in their cooperation.
During his stay, Li will hold talks with Ethiopian Prime Minister Hailemariam Desalegn, meet President Mulatu Teshome, and sit down with Chinese and African business leaders to discuss the China-Africa economic and trade cooperation.
The Chinese leader is also scheduled to pay a visit to the AU headquarters and deliver a speech there to expound his country's Africa policy and reaffirm Beijing's commitment to deepening the new type of the China-Africa strategic partnership.
Upon his arrival, Li also spoke highly of the rapid development of the China-AU ties in recent years, as well as their close coordination and cooperation in international and regional issues.
The AU has become a banner representing the African nations' efforts to gain strength through unity, said Li.
In a joint interview with African media released Sunday before his departure, Li said the trip, which will also take him to Nigeria, Angola and Kenya, will be "one of cooperation and solidarity on the basis of past traditions."
"I will feel the deep friendship based on solidarity and mutual assistance between the Chinese and African peoples, see for myself Africa's dynamic economic and social development, and listen to the African people's description of their expectation for good life in the future," he said.
The premier added that he is more than ready to make concrete efforts to deepen China-Africa relations and advance bilateral cooperation in various fields for the greater benefit of both sides.
In a press briefing about the trip on Wednesday, Vice Foreign Minister Zhang Ming said it will further consolidate the strategic trust between China and Africa, deepen their cooperation in various areas, and lift China-Africa and China-AU relations to new highs.
China, Zhang added, also hopes that the visit will help mobilize other members of the international community to pay more attention to and increase their input in Africa, so as to create a good external environment for its development.
Adding an extra layer of significance to Li's trip, it comes upon the 50th anniversary of late Premier Zhou Enlai's first visit to Africa, a historic feat that created a new era in China-Africa interaction.
Related stories:
Dozens of deals to be signed with African countries
Li's four-nation visit will boost 'concrete' support