New AU headquarters shows partnership entering era of hope
Updated: 2014-04-29 16:00
(chinadaily.com.cn)
Comments
Print
Mail
Large
Medium
Small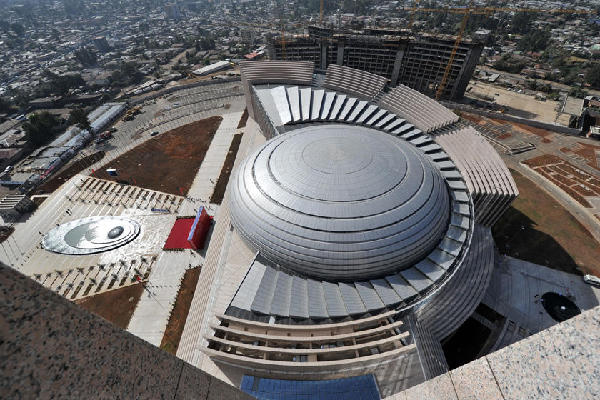 Located in Ethiopian capital Addis Ababa,  the African Union's new headquarters is China's largest aid project to Africa since the construction of the Zambia-Tanzania railway in the 1970s. Ding Haitao / Xinhua
Fully funded by the Chinese government and built by the China State Construction Engineering Corporation, the African Union's (AU) new headquarters is China's largest aid project to the continent since the construction of the Zambia-Tanzania railway in the 1970s.
The center's floor covers around 50,000 square meters and includes a large conference hall with 2,550 seats, a medium conference hall with 650 seats, five news conference rooms and two VIP rooms, among many other facilities. The building's main frame is 99.9 meters high, signifying the date - Sept 9, 1999 - when the Organization of African Unity voted to become the AU.
Because the old premises, built in the 1960s, are too small to hold AU meetings, the African Union Commission has tried for years to accommodate their offices in different areas of Addis Ababa and use the conference center of the United Nations Economic Commission for Africa for the union's annual heads of state and government summit.
The project was one of the eight aid measures to Africa announced by President Hu Jintao at the Beijing Summit of the Forum on China-Africa Cooperation in 2006. Construction began in February 2009 with the donation by Ethiopia of the land near the old AU headquarters and was completed on schedule on Dec 26.