Sails set for more expansion
Updated: 2014-05-16 06:57
By Liu Mingjun (China Daily)

As one of the first cities in China to open up to the world, Qingdao has achieved remarkable and sustained growth in the past 30 years.
An economic hub and major port on the east coast of Shandong province, the city has beautiful views, a laid-back atmosphere and a thriving business sector.
The city's urban area has expanded around Jiaozhou Bay to become 12 times larger than it was in the 1980s.
As the city pushes forward with industrial restructuring, its marine-related sectors, tech-driven firms and modern service industry including finance are gaining momentum.
Economic boom
Last year the city's GDP hit a record 800 billion yuan ($127.3 billion), a 10 percent increase from 2012, which brought GDP per capita to more than $14,500.
Statistics from the Qingdao Bureau of Commerce showed the city's foreign trade volume totaled $77.9 billion, one-third of the provincial total, with 13,000 companies involved in international transactions.
The ratio of foreign trade in the city's economy was 59.7 percent last year.
Qingdao used $5.52 billion in foreign direct investment while outbound investment from local companies grew 17 percent to 710 million yuan.
Extensive ties
About 11,000 foreign-funded companies, including 114 Fortune 500 companies, from more than 160 countries and regions operate in Qingdao. These companies generated 27 percent of the city's new jobs and 40 percent of overall tax revenue.
The city has economic and trade exchanges with more than 212 countries and regions and forged economic partnerships with more than 10 foreign cities.
Plans to build a free trade port are now being considered as China holds talks with Japan and South Korea on free trade agreements.
Expanding capacity
Qingdao Port, the world's seventh busiest by cargo volume, handled 450 million tons in 2013 and its container throughput reached 1,552 units. It has trade ties with more than 700 ports in 180 countries and regions.
A new airport in Jiaozhou, north of downtown Qingdao, will be put in use by 2017. According to the Civil Aviation Administration, annual passenger traffic at the new airport is expected to reach 35 million in 2025.
The city also established its own airline, Qingdao Air, which is scheduled to take off next year.
The Qingdao North Train Station started operation less than six months ago. It is now Shandong's largest transport hub and is expected to see 18 million passengers use it each year by 2020.
Zone's leading role
Qingdao has 12 national and provincial economic zones including the Qingdao Economic and Technology Development Zone and the Qingdao National High-tech Industrial Zone.
A national electronics and information center and equipment base are also being built.
The Qingdao Bonded Port became the only port in Shandong province able to import cars in 2012.
The city is also gearing up to boost the e-commerce industry with the help of the zones, which account for 51 percent of the city's FDI and 46 percent of its foreign trade.
International events
As a popular tourist destination, Qingdao is renowned for its German architecture, sandy beaches and the century-old shire for Taoism on Laoshan Mountain.
The city is China's sailing capital and has a thriving water sports industry. Several world-class sailing events were hosted by Qingdao including the 2008 Olympic and Paralympic Games and the Clipper Round the World Race.
The annual Qingdao International Beer Festival was recognized as one of China's top 10 festivities by the Asia Events Fortune Forum.
The 2014 Qingdao International Horticulture Expo and the 2014 Meeting of Asia Pacific Economic Cooperation Ministers Responsible for Trade are taking place in Qingdao.
Blue economy
As a city known for marine science development, Qingdao is home to 30 percent of China's oceanographic research institutions.
Half of the nation's top marine scientists work in the city and have won half of China's marine innovation awards.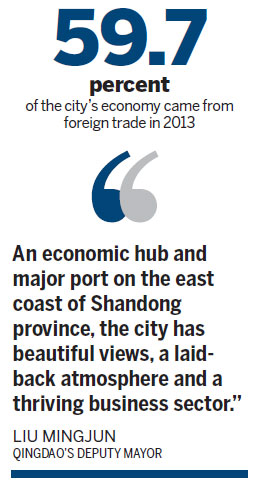 Revenue generated from ocean related industries grew by an average of 19 percent in the past three years. The city's marine biomedicine and marine engineering equipment output account for 14.7 percent and 9.5 percent of the nation's total.
Shipbuilding and efficient use of seawater resources are key to Qingdao's marine development and the city aims to lead the nation's blue economy by 2017.
Homegrown stars
Haier, the world's largest home appliance maker by sales volume, has enhanced its global competitive advantage through mergers and acquisitions in countries like Japan, South Korea and Australia. It also built a number of R&D centers and industrial parks across the globe.
The Hisense Group, which is also based in Qingdao, is involved in a diverse range of sectors including multi-media, household electronic appliances and smart communications. Hisense used technological innovation to develop into one of the largest electronic information companies in China.
Hisense's sales income increased from 10.8 billion yuan ($1.7 billion) in 2000 to 93.2 billion yuan in 2013, according to the company.
According to the Barth Report, Tsingtao Brewery is the sixth largest brewery worldwide in terms of production. The company's global sales volume reached 8,700,000 kl in 2013.
Service sector
As Qingdao upgrades its industry structure, its service sector is picking up steam, contributing half of the city's GDP.
Since 2011, the industry's added value increased by an average of 11.1 percent each year and reached 401.28 billion yuan in 2013. The service industry accounted for 50.1 percent of the city's GDP.
Modern service sectors including finance, tourism, scientific information and modern logistics increased by 10 percent each year.
A total of 62 million tourists visited the city last year, generating 93 billion yuan revenue.
The outsourcing industry is a new star among Qingdao's service sectors. In 2013, the city's outsourcing contract amounts reached $1.71 billion, up 122.8 percent from a year earlier.
The author is Qingdao's deputy mayor.
For China Daily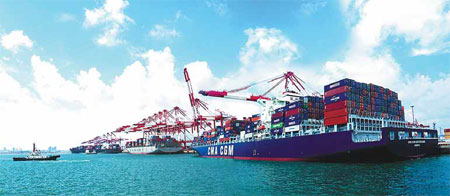 Qingdao Port, the world's seventh busiest by cargo volume, had a yearly container throughput of more than 1,500 units last year and forged trade ties with about 700 ports worldwide. Photos Provided to China Daily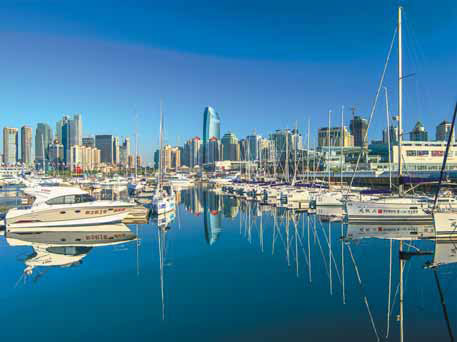 Qingdao's sailing center is a venue for many international sports events including the 2008 Olympic Games.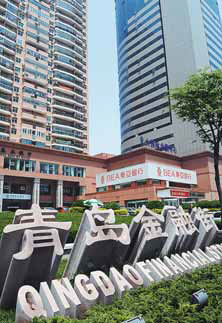 The city's financial hub. Nearly 200 financial institutions operate in the city.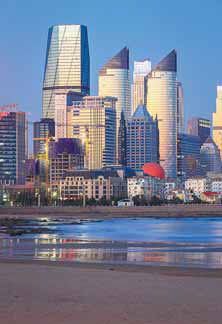 The modern face of Qingdao. The city is home to 11,000 foreign-invested companies.