Transport hub renovated for new district
Updated: 2014-05-14 07:06
By Xie Chuanjiao (China Daily)
The Qingdao North Railway Station is on a mission to transport 18 million passengers a year by 2025 and transform into a flourishing business zone.
Plans have been drawn up for the Qingdao Traffic Business District, which will cover 36 square kilometers and feature modern services and head offices.
Five world-class design companies from Germany, Singapore and the United States, including Rheinschiene Architects and SWA, presented plans for the zone.
"With star architects joining the planning team, the area will be built into a modern international business center," said Liu Yungang, director at the district's development office.
An East-West Plaza in front of the train station was designed by David Thomson, managing principal at SWA, an international landscape architecture, planning and urban design firm.
Integrating iconic elements including the Laoshan Mountains, undulating coastline and railway track the plaza is a large business complex with a partially underground square and shopping center.
The plaza provides open space for people to leave the train station and is also supposed to be a symbol of urban culture.
"Business activities will be centered around the plaza and extend to the surrounding area," said Liu.
The district will be divided into several functional zones including a transportation center, shopping mall, business offices, a historical and cultural tourism center and a hotel, convention and exhibition center.
Once complete the district will house 300,000 people, including 200,000 office workers, in the central area, south of Yandun Hill.
It is hoped the area will draw in millions of people, which will in turn help the success of businesses in the area.
The traffic system comprises high-speed railways, the Jiaozhou Bay Bridge and subways, which are expected to create a constant flow of passengers, commodities, capital and information.
The train station has accesses to three subways, M1, M3 and M3, allowing passengers to transit without coming out of the station.
The district will be centrally located and will link to the downtown center of Qingdao as well as three emerging districts in Huangdao, Hongdao and Laoshan across the Jiaozhou Bay. The area's geography further consolidates the district's position as an ideal business center.
A number of head offices of Qingdao enterprises have moved into the area and it is attracting more companies.
"With a large amount of quality headquarter offices, the district will soon become the new pole of growth for Qingdao and will churn out an economic output of 50 billion yuan in the not distant future," said Liu.
Liu said the renovation project not only included business development in the area but also aimed to improve residential living standards and the natural environment.
Yuexiu Group, a Guangzhou-based real estate company, invested 2.5 billion yuan to build a high-end seaside residential complex on one of the original factory sites in the area.
"Many international transportation hubs flourish as commercial centers, such as Germany's Munich Main Station, Montreal Station in Canada as well as Hongqiao district in Shanghai," Liu said.
"I believe the business area in Qingdao North Railway Station will follow these models and grow into a modern international urban center soon."
xiechuanjiao@chinadaily.com.cn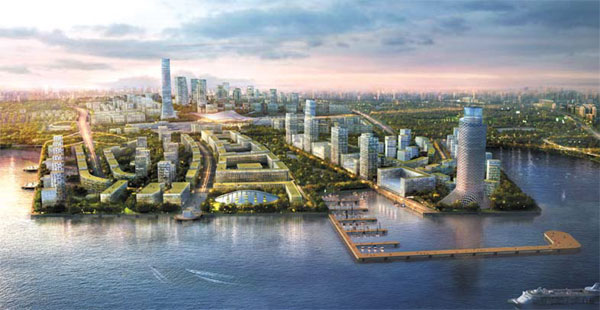 An artist's impression of the Qingdao Traffic Business District, which will cover 36 square kilometers and feature modern services and head offices.
(China Daily 05/14/2014 page12)