Railway station revamp is on track to create key network
Updated: 2014-05-14 07:06
By Hu Qing (China Daily)
Qingdao's new North Railway Station will transform the dynamic harbor city into a key node in China's integrated transport network, said local officials.
The station will link the sea and land to boost Qingdao's connections between Pacific Ocean countries and inland Chinese cities and reach as far as Central Asia and Europe.
The Qingdao Traffic Business District, which will cover 36 square kilometers once complete, will become a new pole of growth for the city, said Liu Yungang, director at the district's development office.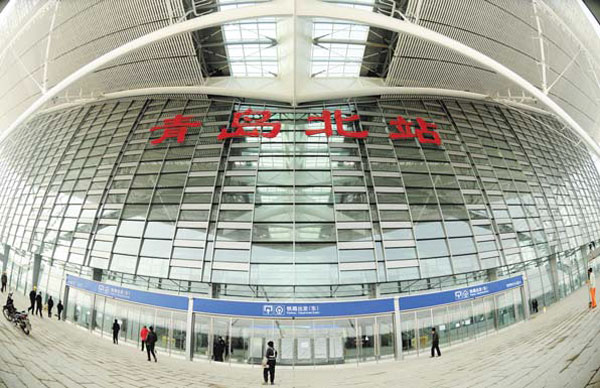 The busy Qingdao North Railway Station is now the largest transportation hub in Shandong province.
The Qingdao North Railway Station opened less than six months ago and during the three-day May 1 holiday the station saw 140,000 travelers come in and out of Qingdao. It is now the largest transportation hub in Shandong province.
It is estimated the station will receive 9.25 million passengers each year, rising to 18 million by 2020.
The station is 16 kilometers from the city's airport, and it connects nine railways.
It takes one to two hours to get to cities around the Shandong Peninsula by high-speed train.
Travel time from Qingdao to Shanghai has been cut to four hours from the previous seven and the station is a connecting hub to major metropolitan areas in the Yangtze River and Pearl River deltas as well as industrial bases in Northeast China.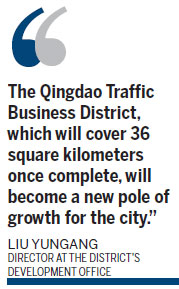 Once complete the station will also connect a further four high-speed railways that link to Weihai, Jinan and Dalian in Liaoning province.
The high volume of passenger flow gives the station enormous opportunities for business and urban development, said Liu.
"We will speed up efforts to develop the infrastructure including the road network, as well as environmental protection projects in the mountains, rivers and sea, so that business will thrive and our citizens can enjoy a livable environment," Liu said.
For more information on investment opportunities, please contact:
Phone: (86 532) 84696316
Fax: (86 532) 84695109
www.qdhaichuang.com
http://www.m6park.com
huqing@chinadaily.com.cn
(China Daily 05/14/2014 page12)