Ningbo drawing more tourists with rich history, culture
Updated: 2014-02-28 07:24
By Zhuan Ti (China Daily)
Ningbo city on the Yangtze River Delta attracts tourists with its rich cultural and historical heritage.
A typical example is the Hemudu site, which was unearthed in 1973 at Yuyao, a part of the city, and subsequently named one of the most important archeological discoveries in China in the 20th century.
The remaining relics, including rice seeds and delicately-made wood oars, evidence a flourishing Neolithic culture on the river delta that dates back thousands of years.
The Hemudu findings, which have been included in secondary school textbooks on the mainland, challenged the conventional view that the Yellow River region was far more advanced than the rest of China in ancient times. It proves that the Chinese civilization originated from both the Yellow River and the Yangtze River, experts said.
Another popular tourist destination is the Tianyi Pavilion, a private book house that a military official began to build for his family in 1566.
The building has stood hundreds of years and was recognized as the oldest book pavilion preserved in China.
Around 160,000 ancient books have been collected in the pavilion, an invaluable asset that has played a key role in the cultural exchanges between China and other countries.
The port city was a start of the ancient maritime Silk Road. Nearly 200 ceramic kilns preserved in the city's Cixi area witnessed the boom in ancient international trade.
Not only commodities, but also cultural currents, gathered at the burgeoning port city. As a result, Buddhism found its niche there.
Built in the early Western Jin Dynasty (AD 265-316), Ashoka Temple in Ningbo is the only ancient temple named after the Indian emperor in China. The 38,000-square-meter Tiantong Temple complex has more than 30 buildings, which is a scale rarely seen in East Asia, locals said.
Other Buddhism facilities, such as Xuedou Temple, a venue to house Maitreya Buddha, and Baoguo Temple, the oldest wood building complex on the Yangtze River Delta, reinforce Ningbo's position in Buddhist exchanges, especially with Japan. It has established a number of partnerships with foreign cities.
There are 1,530 historic sites across the city, including 31 national-level ones. And Ningbo has 261 items on the list of intangible cultural heritages, including 21 national ones.
In addition to preserving historic heritage, the city government also values development of the local creative industry and the expansion of access to cultural facilities.
Four cultural companies based in Ningbo have gone public.
At the same time, more investment is flowing into the rural areas to help farmers enjoy cultural activities. A total of 150 cultural halls were built in Ningbo's rural area last year.
The culture-friendly environment helps to retain experts and professionals. Besides the human resource reservoir of 145,000 undergraduates in 15 local universities and colleges, Ningbo also held a weeklong talent and tech campaign to attract more specialists. In 2013 alone, 180,000 new experts joined in the efforts in the city construction.
zhuanti@chinadaily.com.cn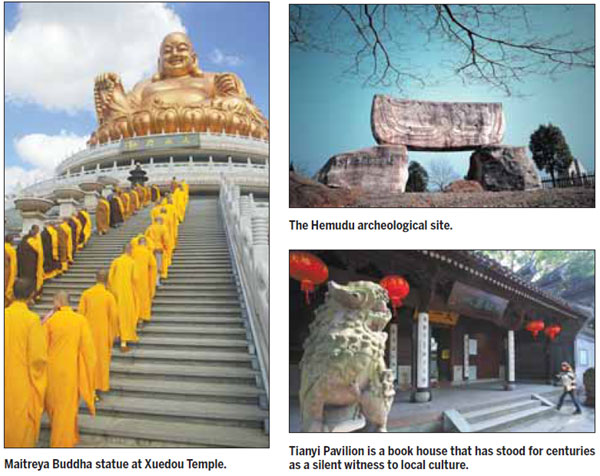 (China Daily 02/28/2014 page12)