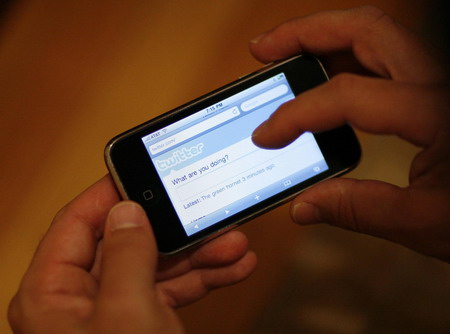 A Twitter page is displayed on an Apple iPhone in Los Angeles October 13, 2009. [Agencies]
About 40 companies have entered into license agreements with Helsinki-based Nokia, including virtually all the leading handset vendors -- except Apple.
Apple said that Nokia had engaged in anti-competitive behavior and did not live up to commitments to license its own technology at fair and reasonable terms.
According to Apple's complaint, Nokia and Apple began licensing negotiations in late 2007 related to certain Nokia wireless communications patents.
In subsequent years, Apple said, Nokia boosted royalty rates for the patents to as much as three times higher than what was previously proposed and demanded that Apple grant Nokia a license to certain of its patents as part of the compensation.
"Other companies must compete with us by inventing their own technologies, not just by stealing ours," Bruce Sewell, Apple's General Counsel, said in a statement.
Jeffrey Faucette, Vice Chair of Howard Rice Nemerovski Canady Falk & Rabkin's Intellectual Property litigation department, said the two may have sharply differing views about whose technology is central to the iPhone.
"In the old perspective, you'd say the piece that lets you make calls is the most valuable, so you'd get a license fee that's commensurate with that," Faucette said.
"Now you look at the iPhone, it's hard to say specifically what that device is for. It changes daily and hourly depending on what the newest app is that people are crazy about."
The 13 patents Apple cited in its countersuit involve various computing technologies including graphical interfaces, teleconferencing, power conservation and touch screen technologies -- features popularized by its iPhone.
Apple cited Nokia's E71, sold by AT&T Inc, and its new top-end N900 model as products that infringe its patents.
In response, Nokia said the countersuit does not change anything fundamental in the original case, but noted that it would take time to study the suit.
"They have infringed our patents since the iPhone launch in 2007," a Nokia spokesman said.
Apple shares were down 1 percent at $194.67 on Nasdaq. Nokia's US shares were up 1.4 percent at $12.73.
While the battle may drag on, analysts see the companies eventually coming to a licensing agreement.
"We can now look forward to a lengthy tit-for-tat exchange between Apple and Nokia as they grind out a deal," said Ben Wood, research director at CCS Insight.