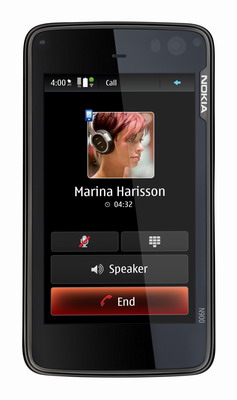 An undated handout photograph shows the new Nokia N900 mobile phone. Nokia started deliveries, on November 10, 2009, of its new top-of-the-range model N900, a key product for the world's top phone maker in its battle against rivals iPhone and Blackberry. [Agencies]
SAN FRANCISCO/HELSINKI: Apple Inc accused Nokia of anti-competitive practices and patent infringement on Friday, escalating a legal battle as they fight for market share in smartphones.
Analysts say the dispute, potentially involving hundreds of millions of dollars in annual royalties, reflects the shifting balance of power in the mobile industry as cellphones morph into handheld computers that can play video games and surf the Web.
Apple, which makes the iPhone and iPod, was responding to a suit that arch-rival Nokia filed in October. That suit accused Apple of infringing 10 Nokia patents for technologies such as wireless data, speech coding and security.
The countersuit heats up the fight between a rapidly growing Apple and the world's largest maker of cellphones. While relative newcomer Apple trails Nokia in cellphone shipments, its iPhone has gained a lot of ground against the market leader in the smartphone segment.
Apple, which entered the industry in mid-2007, overtook Nokia last quarter as the cellphone maker generating the highest total operating profit.
"History is littered with industry incumbents being surprised by newcomers since established players often fail to deliver customer value beyond the basic utility of their initial products," said Steven Nathasingh, chief executive of researcher Vaxa Inc.
"Apple has bedazzled Nokia and others like Sony by redefining all things mobile and making it generationally stylish. A combination that is hard to beat," he said.
Analysts say Nokia and Apple could take years to resolve their patent dispute.
In court documents, Apple denied infringing the Nokia patents. It said the patents asserted by Nokia were not essential for technology standards used in cellphones. The countersuit was filed in the same Delaware court where Nokia brought its case, Apple said.
Shades of Motorola
Since Motorola Inc launched a similar attack on Nokia in 1989, the Finnish company has built one of the industry's widest patent portfolios. Only Ericsson and Qualcomm have comparable portfolios.
Signage for Motorola is displayed outside their office building in Tempe, Arizona October 29, 2009. [Agencies]