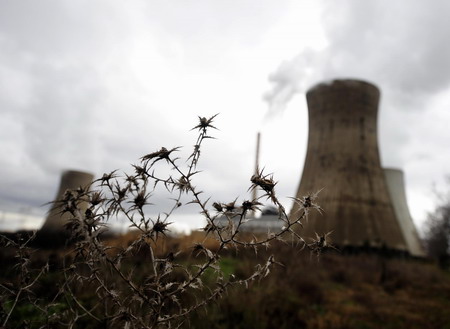 Steam billows from the cooling towers of a coal power plant near the southern town of Bitola, 200 km (124 miles) from the capital Skopje, December 10, 2009. [Agencies] 
BRUSSELS: Leaders of European Union (EU) members reiterated their stance on climate change at a summit hereon Thursday, but failed to put forward the exact amount of a "fast-starting" fund to help developing countries tackle climate change.
Swedish Prime Minister Fredrik Reinfeld, whose country holds the current EU rotating presidency, told a press conference that the bloc was committed to showing leadership in fighting against climate change and had made conditional offer.
He said the EU had pledged to cut greenhouse gas emissions by 20 percent by 2020 compared with the 1990 levels and was ready to increase the target to 30 percent if similar pledges are made by developed countries.
Full Coverage:


Copenhagen Summit
Related readings:


 Carbon trading, a market mechanism for tackling climate change


 China's climate envoy asks rich countries to do 'soul searching'


 Climate talks in disarray over 'Danish text'

 Population key to fight against climate change


 Developing nations united in climate talks, EU, US differ
He urged other nations to join the EU to make ambitious pledges on cutting green gas emissions as "we need global answer to this global problem."
European Commission President Jose Manuel Barroso also called on other nations to take action and reach an agreement in the ongoing UN climate talks in Copenhagen, saying it was "less expensive" to repair the world now than later.
He explained the EU's stance on climate change, saying it aims to put pressure on other key countries and urge them to take concrete actions, which could lead to a success in the Copenhagen conference.
However, although more than half of EU members have pledged to make contributions, the EU leaders didn't reach an agreement on the exact amount on the "fast-starting" funding to help the world's poorest nations to tackle climate change from 2010 to 2012.
"We will have a better figure tomorrow than tonight," which will be a great boost to the Copenhagen talks, he said.
The European Commission has estimated that it needs some 5 billion to 7 billion euros (US$ 7 to 10 billion) a year in 2010-2012.
So far, Britain, Sweden and the Netherlands have announced significant contributions, while Germany, France and Italy are reportedly reluctant to make pledges.
During a meeting on Oct. 29, the EU leaders insisted that their countries "contribute their fair share" provided that other key players also make comparable efforts.
At Thursday's meeting, which is the first one after the bloc's reformed Lisbon Treaty came into effect on Dec. 1, the leaders also discussed the economic, financial and employment situation in the EU, particularly exit strategies and supervision of financial markets.
The next summit in 2010 will be chaired by EU permanent President-elect Herman Van Rompuy.