TOKYO: UN Secretary-General Ban Ki-moon said Wednesday the world must seal the deal on a new treaty to curb pollution at a crucial climate change meeting in Copenhagen in December, urging global business leaders to join efforts against global warming.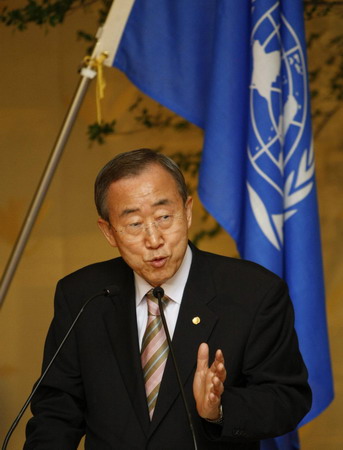 UN Secretary-General Ban Ki-moon makes a speech at a joint news conference with Japan's Foreign Minister Hirofumi Nakasone (not in the picture) in Tokyo June 30, 2009. [Agencies]

Ban, who has put climate change among his top priorities, said he would mobilize "every effort" to reach an agreement at the UN meeting to adopt an ambitious global treaty to replace the Kyoto protocol, which expires in 2012.
"We must seal the deal in Copenhagen in December this year," the UN chief told a group of Japanese business leaders.
"It will be a moment of truth in Copenhagen whether we will set ourselves on course for disaster by taking business as usual attitude or we will find the path of sustainable green growth," he said. "We know the answer. We must take the course of sustainable green growth."
Related readings:


 UN concerned about situation in Honduras


 UN: climate change deepens disaster risk for poor


 US climate bill, UN pact more likely in 2010


 UN holds high-level meeting on global crisis


 UN: World hunger reaches 1 billion mark
Ban is on a three-day trip to Japan before heading to Myanmar on Friday. The UN chief will hold talks with Japanese Prime Minister Taro Aso later in the day.
The two leaders will likely discuss Ban's upcoming visit to the military-ruled country as well as the Democratic People's Republic of Korea's (DPRK) nuclear and missile threats.
On climate change, Ban told Japanese business leaders that they should do more to help the world reduce greenhouse gas emissions.
"Your role is extremely, crucially important. I count on your leadership," Ban said.