YEKATERINBURG, Russia - Leaders of emerging world powers discussed reducing reliance on the United States, as well as boosting security and trade, at two summits on Tuesday.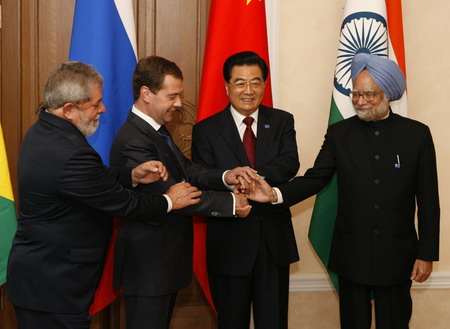 From left, Brazil's President Luiz Inacio Lula da Silva, Russian President Dmitry Medvedev, Chinese President Hu Jintao and Indian Prime Minister Manmohan Singh pose for a photo in Yekaterinburg, June 16, 2009. [Agencies]

The range of topics on the agenda and the line-up of presidents attending showed the growing economic and political power of the world's emerging nations, including India and China, and their desire to forge new levers of influence.
Host president Dmitry Medvedev of Russia hailed the Urals city of Yekaterinburg as "the epicenter of world politics." The need for major developing world nations to meet in new formats was "obvious," he said.
The so-called BRIC nations of Brazil, Russia, India and China called for reform of international financial institutions, sweeping changes to the United Nations to give a bigger role to Brazil and India and a "stable and predictable" currency system.
Iran's president, re-elected in a disputed vote, fired a salvo at the United States; the leaders of India and Pakistan had their first one-to-one meeting since the Mumbai attacks and the four top emerging market economies held their first summit.
A common thread running through the Shanghai Cooperation Organisation (SCO) summit and a separate meeting between Brazil, Russia, India, and China (BRIC) was discussion of a new world order less dependent on the United States.
Medvedev told a news conference that existing reserve currencies, including the US dollar, had not performed their function and said it was time for change.
"We are likely to witness the creation of a supranational reserve currency ... which will be used for international settlements," Medvedev said. "The existing currency system is not ideal." Countries should use their national currencies more for trade, he added.
DOLLAR FALLS
The BRIC summit ended with a statement by Medvedev and a communique which demanded more power for developing nations. It did not mention two key Moscow initiatives - a smaller role for the US dollar and a supranational reserve currency.