TEHRAN, Iran – Iran's interior ministry said Saturday President Mahmoud Ahmadinejad took a commanding lead with nearly 70 percent of all votes counted, but his pro-reform rival countered that he was the clear victor and warned of possible fraud in the election.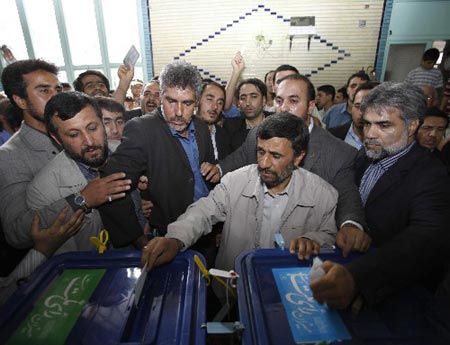 Iran's incumbent president Mahmoud Ahmadinejad casts ballot in the presidential election at a polling station in Tehran June 12, 2009. Iran held presidential election on June 12. [Xinhua]

The dispute rose up even before the votes were counted — sharply boosting tensions after an intense monthlong race between the combative president and his main challenger, Mir Hossein Mousavi, who has the backing of a growing youth-oriented movement.
Mousavi declared himself "definitely the winner" based on "all indications from all over Iran." He also alleged widespread irregularities, including closing polls with voters still waiting — suggesting he was ready to challenge the results.
But bringing any showdown into the streets would certainly face a swift backlash from security forces, which have already issued stark warnings against unrest or any threat to the Islamic regime. A series of cyber-strikes — text messaging blackouts, blocks on pro-Mousavi Web sites and widespread Internet disruptions — also raised worried that authorities were prepared to exert further pressures on the communications lifelines of the rejuvenated reformist movement.
The messy and tense outcome capped a long day of voting. It was extended for several hours to accommodate a huge turnout that had people waiting for hours at polling stations in blistering heat and nighttime downpours.
Mousavi, a 1980s-era prime minister, had been counting on an outpouring from what's been called his "green tsunami" — the signature color of his campaign and the new banner for reformists seeking wider liberties at home and a gentler face for Iran abroad. He raised hopes that a new leadership might embrace President Barack Obama's invitation to open dialogue and take a less confrontation path with the West over Iran's nuclear program.
Related readings:


 Ahmadinejad: Iran to create bright future


 Women's rights activists pin hopes on Iran vote

 Voting starts in Iran's presidential election


 Iran presidential race most tense ever


 In Iran, poll campaign is excuse for one big party
But moments after Mousavi called a news conference to declare victory, Iran's state news agency reported that Ahmadinejad was the victor. Both claims came shortly after polls close but before any vote tallies were announced.
Before dawn, Ahmadinejad supporters weaved through Tehran's streets on motorbikes shouting "Allahu Akbar," or God is Great.
By early Saturday, Ahmadinejad had 65.9 percent and Mousavi had 31.1 percent with 68 percent of all votes counted, said Kamran Daneshjoo, a senior official with the Interior Ministry, which oversees the voting.
Based on figures released by the ministry, around 75 percent of the 46.2 million eligible voters went to the polls.
There was no sign of increased security, but the warnings had already been issued.
The political chief of the powerful Revolutionary Guard cautioned Wednesday it would crush any "revolution" against the Islamic regime by Mousavi's "green movement." The interior ministry said all rallies or political gatherings would be banned until after the formal announcement of results later Saturday.
Mousavi, however, was equally harsh — accusing the Islamic establishment was "manipulating the people's vote" to keep Ahmadinejad in power.
"I'll pursue this. I won't give us. There is no way back," he said.