Gunmen burst into a university complex in Azerbaijan's capital Baku on Thursday and killed at least 13 people in a shooting rampage, officials said.
Details of the incident were unclear, but unconfirmed reports from local television said two gunmen had gone on a shooting spree at the Azerbaijan State Oil Academy, one of the most prestigious universities in the oil-rich former Soviet republic.
Officials refused immediately to provide any details of the incident other than the number of dead and wounded.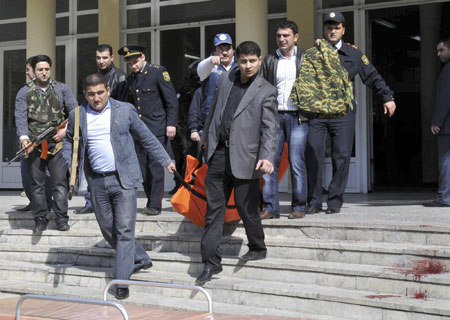 The body of a victim of a shooting at a university is carried down bloodstained steps to a van in Baku April 30, 2009. At least 13 people were killed on Thursday when an unidentified man opened fire at students at the university in the Azeri capital. [Agencies]
"According to the current information, 13 are dead and 10 are wounded," a spokesman for the general prosecutor's office, Eldar Sultanov, told journalists at the scene.
Police said the incident had ended but refused to comment further.
"The operation is over," Azerbaijani interior ministry spokesman Ekhsan Zaidov told Russia's state news agency RIA-Novosti.
ANS television reported that two gunmen had burst into the school during morning lectures and made their way up a staircase, shooting as they went.
The channel reported that one of the gunmen had killed himself. It said that both students and professors were among the dead.
Quoting unnamed police sources, the Azeri Press Agency identified one of the gunmen as Nadir Shirkha, a Georgian citizen of Azerbaijani descent. Other reports said one of the killers had been of Syrian origin.
Student Abas Aliyev told journalists at the scene that he had caught sight of one gunman moving up the stairs before fleeing the building.
"He was walking up the stairs and shooting whoever he saw," Aliyev said.
Earlier reports said the gunmen had taken hostages.
Numerous ambulances and dozens of police could be seen outside the university and the pavement in front of the building was stained with blood, an AFP correspondent said.
Azerbaijan is an energy-rich, mainly Muslim republic on the western shores of the Caspian Sea.
Since gaining its independence with the collapse of the Soviet Union, the country has become a regional hub for oil and gas production and export. Western companies, in particular Britain's BP, have invested hundreds of millions of dollars in the country's oil and gas industries.
The Azerbaijan State Oil Academy was founded in 1920 and was the first institute of higher learning in Europe and Asia focused on the petroleum industry, according to its web site.