To the dismay of liberals, Obama invited conservative evangelical pastor Rick Warren, an opponent of gay rights, to give the inaugural invocation.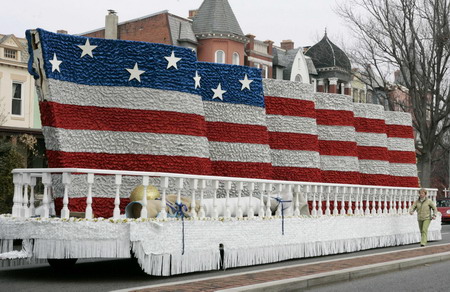 A parade float depicting a US flag makes its way to the Capitol in preparation for Tuesday's Inaugural Parade, in Washington January 19, 2009. President-elect Barack Obama will be sworn in as the 44th President on January 20, 2009. [Agenices]
About a dozen members of Obama's Cabinet and top appointees, including Secretary of State-designate Hillary Rodham Clinton, were ready for Senate confirmation Tuesday, provided no objections were raised.
Related readings:


 Countdown to Obama presidency as King remembered


 Michelle Obama: Future US first lady


 Obama honors rival McCain on eve of inauguration


 Bush looks back and wishes Obama well
More than 10,000 people from all 50 states, including bands and military units, were assembled to follow Obama and Biden from the Capitol on the 1.5-mile inaugural parade route on Pennsylvania Avenue, concluding at a bulletproof reviewing stand in front of the White House. Security was unprecedented. Most bridges into Washington and about 3.5 square miles of downtown were closed.
Obama's inauguration represents a time of renewal and optimism for a nation gripped by fear and anxiety.
Stark numbers tell the story of an economic debacle unrivaled since the 1930s. Eleven million people have lost their jobs, pushing the unemployment rate to 7.2 percent, a 16-year high. And one in 10 US homeowners is delinquent on mortgage payments or in arrears. The Dow Jones industrial average fell by 33.8 percent in 2008, the worst decline since 1931, and stocks lost $10 trillion in value between October 2007 and November 2008.
Obama and congressional Democrats are working on an $825 billion economic recovery bill that would provide an enormous infusion of public spending and tax cuts. Obama also will have at his disposal the remaining $350 billion in the federal financial bailout fund. His goal is to save or create 3 million jobs and put banks back in the job of lending to customers.
In an appeal for bipartisanship, Obama honored defeated Republican presidential rival John McCain at a dinner Monday night. "There are few Americans who understand this need for common purpose and common effort better than John McCain," Obama said.
Young and untested, Obama is a man of enormous confidence and electrifying oratorical skills. Hopes for Obama are extremely high, suggesting that Americans are willing to give him a long honeymoon to strengthen the economy and lift the financial gloom.
On Wednesday, his first working day in office, Obama is expected to redeem his campaign promise to begin the withdrawal of US forces from Iraq under a 16-month timetable. Aides said he would summon the Joint Chiefs of Staff to the Oval Office and order that the pullout commence.