LIMA, Peru -- President George W. Bush, wrapping up his final summit with world leaders, offered a message of hope that despite the worst economic crisis in decades, the global economy will emerge in better shape.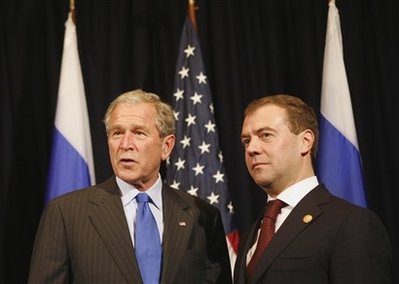 US President George W. Bush, left, and Russian President Dmitry Medvedev pause for photographers before their meeting at the Asia Pacific Economic Cooperation Summit in Lima, Peru, Saturday, Nov. 22, 2008. [Agencies] 
Bush was able to achieve victories on his two top priorities, winning endorsements for an action plan to deal with the economic crisis and agreement by his partners for a new round of discussions next month aimed at halting North Korea's nuclear program.
He was expected to tout the benefits of free trade during a meeting Sunday with his host, Peru's President Alan Garcia, before attending the final sessions of the 21-nation Asia-Pacific Economic Cooperation forum as he wrapped up three days of discussions.
The United States and Peru have a free trade deal about to go into effect between the two nations -- one of a string of deals negotiated during Bush's presidency.
On Saturday,the APEC leaders issued a statement endorsing a sweeping action plan that had been approved a week ago at an emergency meeting in Washington of the Group of 20, consisting of the world's richest countries and major emerging economies such as China, Brazil and India.
The APEC members signed on as well, endorsing the effort to overhaul global regulations to prevent future crises and pledging to refrain from raising trade barriers in the face of the current downturn.
Bush had pushed for this commitment, concerned that the severe turmoil could prompt nations to turn inward to protectionism, repeating the kinds of beggar-thy-neighbor trade policies that had turned the 1930s crisis into the Great Depression.
"Recovering from the financial crisis is going to take time. But we'll recover, and in so doing, begin a new era of prosperity," Bush proclaimed Saturday in a speech to APEC business leaders.
Bush managed to get in a final round of meetings with individual leaders, allowing himself a rare bit of self-reflection, commenting on several occasions that the talks marked his last face-to-face meetings with them as president.
Bush may not view that as a total loss. His meeting with Russian President Dmitry Medvedev had a strained quality.
Both Bush and Medvedev mentioned without going into details the disagreements that sometimes separated the two countries.
Russia is unhappy with the Bush administration's plan to install a missile defense system in Europe while the administration has spoken disapprovingly of Russia's war with Georgia.
"We've had our agreements, we've had our disagreements," Bush said, adding that he had sought to make sure that "when we disagree, we're able to do so in a way that is respectful to our two nations."
For his part, Medvedev, speaking through a translator, said the two nations did have "points of real differences" but that he was prepared to keep working with the United States, possibly looking ahead to a change of administrations in January.
White House press secretary Dana Perino called the talks an "honest and direct exchange" and said the two leaders had discussed the situation in Georgia.
Russian forces drove deep into Georgia in August after that country launched an attack to regain control of South Ossetia.
Bush did win a victory on an issue where Russia along with China, Japan and South Korea are working to support America's efforts to rid North Korea of its nuclear weapons program. The nations agreed to meet in China in early December, possibly to finally lock in a disarmament deal.
Bush also came away from the weekend discussions with the backing he wanted from the APEC members for the G-20 action plan to deal with the global financial crisis, an agreement that calls for another G-20 summit before the end of April, after Bush has left office.
Barring a surprise trip to Iraq or Afghanistan, Bush's foreign travel as president is ending with this trip. He turns over the White House to President-elect Barack Obama on Jan. 20.
While Obama dispatched representatives to meet with G-20 leaders for the discussions a week ago in Washington, he had no representatives in Peru. Many of the other leaders were clearly wondering how US policy might change with Obama in the White House.
The APEC leaders pledged to work toward a broad framework by the end of next month in global trade talks known as the Doha Round, which are being conducted by the Geneva-based World Trade Organization.
However, it was unclear whether that commitment will bear fruit in the long-stalled talks, especially since countries may want to hold back their best offers until an Obama administration is in office.