WASHINGTON DC: The International Monetary Fund (IMF) is expected to get more funds from some rich countries and strengthen its monitoring of the global financial system as part of the efforts to build a new world financial order.
"Our role in surveillance will certainly increase," Dominique Strauss-Kahn, head of the IMF, said on Saturday. The IMF's role of detecting "early warnings" is "absolutely necessary" to forecast and avoid a global financial crisis in future.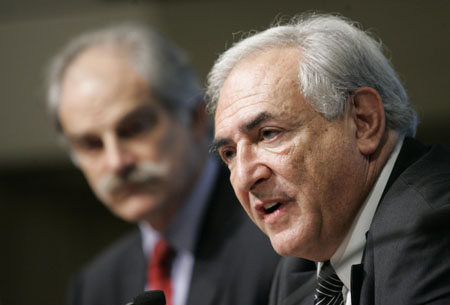 Managing Director of the International Monetary Fund (IMF) Dominique Strauss-Kahn speaks while John Lipsky (L), IMF First Deputy Managing Director, listens during a press conference following the G20 Summit on Financial Markets and the World Economy in Washington November 15, 2008. [Agencies]
Leaders of the G20 countries have asked the IMF, which has 185 members, to promote financial stability, review members' economies every year and issue detailed reports on their financial systems.
The IMF is back on center-stage because many economies, hit hard by the global financial crisis, now want it to loan them money.
On Saturday, the IMF agreed to loan $7.6 billion to Pakistan to stabilize that country's economy. It has lent $40 billion in the past two weeks, and Strauss-Kahn said on Friday that he expected more economies to apply for loans in the coming months.
This rise in demand for emergency loans has made it necessary for the IMF to get more funds. Japanese Prime Minister Taro Aso said the IMF would need more than $200 billion to help the troubled economies.
G20 leaders said in a communiqu released on Saturday that the international community should review the adequacy of IMF's resources, and stand ready to increase them if and when necessary.
Japan has offered to lend an extra $100 billion to the IMF.
"I'm very pleased about the G-20 leaders' strong support for the important role of the IMF in crisis management and the reform of the international financial architecture," Strauss-Kahn said, adding that he hoped to increase the organization's resources significantly in the coming months.
A day before the G20 meeting, the IMF said it would work with the Financial Stability Forum (FSF) to strengthen its surveillance of financial markets. The FSF is an international group that includes the IMF, central banks and other regulators tasked with drawing up an initial response to the early signs of a financial crisis.
The IMF's role in providing macro-financial policy advice will be strengthened, too, the communiqu said.
During the G20 meeting, Strauss-Kahn welcomed the recent stimulus package announced by many countries, including China. It would take a large global stimulus package, of about 2 percent of world's total GDP, to make a sizeable difference to global growth prospects.
The IMF's latest report on the world's leading industrial economies says next year's global economic growth will be 2.2 percent, down from 3.7 percent this year.