HONG KONG – Asian stock markets logged strong gains Monday, cheered by China unveiling a $586 billion stimulus plan over the weekend to counter the effects of a global slowdown on its booming economy.
Tokyo's Nikkei 225 stock average surged 470.90 points, or 5.5 percent, to close the morning session at 9,053.90, buoyed by the news from China and a weakening yen. Hong Kong's Hang Seng Index gained 386.33 points, or 2.7 percent, to 14,629.76, though traded well off its highs.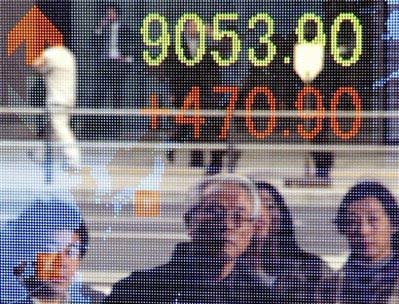 Pedestrians look up at an electric market board in Tokyo, Monday, November 10, 2008. Japan's key stock index jumped more than 5 percent in early trade Monday as sentiment turned upbeat on China's massive economic stimulus package and a weakening yen. The benchmark Nikkei 225 stock average rose 470.90 points, or 5.49 percent, to close the morning session at 9,053.90. [Agencies] 
In the Chinese mainland, where shares have been beaten down in recent weeks, the benchmark Shanghai Composite Index soared 5.7 percent by midmorning to 1,846.97. Markets in Australia, Singapore and South Korea joined the region's advance.
China announced Sunday a massive stimulus package in hopes of keeping economic growth from falling too fast. Demand from the US and the country's other vital export markets has been waning as the global financial crisis takes an economic toll.
China's economic growth slowed to 9 percent in the third quarter, the lowest level in five years and a sharp decline from 11.9 percent the year before perilously low for a government that needs to create jobs for millions of new workers and for other Asian countries that have come to depend heavily on Chinese demand.
"The global economy is in trouble and Chinese authorities understand that they can't wait anymore ... They're aware that exports next year will be terrible given the weakening economies in the US and Europe," said Winson Fong, a Hong Kong-based managing director at SG Asset Management, which oversees about $3 billion in equities in Asia.
"This has been overdue," he said. "Investors in the Chinese mainland have been waiting for a complete rescue package since the beginning of the year."
China's announcement came as economic officials from 20 leading nations called Sunday for increased government spending to boost the troubled global economy.
At a meeting in Brazil, finance ministers and central bank presidents from the Group of 20, which includes major wealthy and developing nations, also said emerging economies deserve a prominent role in talks to overhaul the world financial system.
The markets got an added boost from Wall Street, where the major indexes jumped more than 2 percent on Friday. The Dow Jones industrial average rose 248.02, or 2.85 percent, to 8,943.81 in light trading.
US stock index futures were up, suggesting New York trading would open higher. Dow futures were up 128 points, or 1.5 percent, to 9,126.
Oil prices rose in tandem with the region's markets, with a barrel of light, sweet crude for December delivery gaining $2.88 to $63.92 in Asian trade. The contract settled at $61.04, up 27 cents, in Friday trade on the New York Mercantile Exchange.
In currencies, the dollar strengthened to 98.89 yen, up from 98.21 late Friday in New York.