WASHINGTON - The Federal Reserve cut US interest rates by a half-percentage point on Wednesday to try to stave off a prolonged recession, and left the door open to further reductions if needed.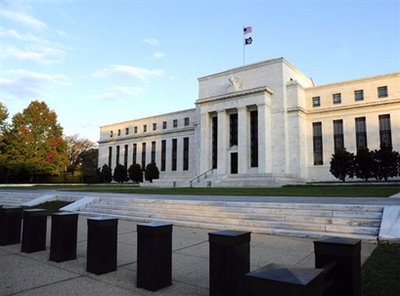 The sun splashes light on the Federal Reserve Building in Washington, DC. The US Federal Reserve cut its key lending rate a half point Wednesday to 1.0 percent in the latest action to ease a credit crisis that is strangling the US economy. [Agencies]
The Fed's unanimous decision takes its target for overnight bank lending to 1.0 percent, the lowest since June 2004. Wall Street was united believing the Fed would lower rates, although views were split on the likely size of the move.
"The pace of economic activity appears to have slowed markedly, owing importantly to a decline in consumer expenditures," the Fed said. "Moreover, the intensification of financial market turmoil is likely to exert additional restraint on spending."
The Fed has fought the credit crisis with a series of measures aimed at pumping liquid funds into markets that had become largely frozen and risk averse. Policy-makers highlighted those steps in their statement and said they should help "over time."
Nonetheless, they concluded that "downside risks to growth remain," keeping in play the option of further rate cuts.
The Fed also toned down its language on inflation, saying only that it expected it to moderate in coming quarters. After an emergency interest rate cut earlier this month the Fed had suggested it still saw some risk inflation could flare.
"The Fed appears to have buried its upside inflation risks," Michael Gregory, an economist with BMO Capital Markets in Toronto, wrote to clients. "Bottom line: No upside inflation risk + persistent downside growth risk = a policy bias to ease further."
Fears of an acute recession pushed US stock prices down to five year lows this month. Stocks see-sawed after the Fed's move but ended lower as a news report raised questions about General Electric's earnings outlook, taking the wind out of a late rally.
The US dollar posted its biggest one-day drop in 23 years, while prices for US government bonds were little changed.