COLOMBO - Heads of state or government of the South Asian Association for Regional Cooperation (SAARC) nations convened Saturday in Colombo, capital of Sri Lanka, to kick off the 15th SAARC Summit.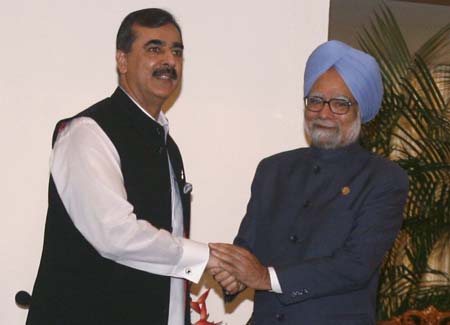 Indian Prime Minister Manmohan Singh (R) and his Pakistani counterpart Yousaf Raza Gilani shake hands before their meeting in Colombo August 2, 2008. [Agencies] 
In his address at the summit's inaugural session at the Bandaranaike Memorial International Conference Hall, Sri Lankan President Mahinda Rajapaksa said this year was of historic importance for SAARC among significant political events and major international issues like food and fuel insecurity.
Related readings:


 Near-term prospect for India uncertain


 India, Pakistan continue trading fire along Kashmir frontier


 30 arrested after blasts kill at least 45 in India


 India on alert after two days of bombings kill 46
He called on the South Asian leaders attending the summit to commit themselves and their countries to a more determined and concerted effort to collectively combat the scourge of terrorism in all its forms and manifestation.  
Rajapaksa emphasized that it is the very interdependence which gave birth to SAARC that has emerged as the crucial factor for durable peace and the protection of democratic values in the region.
He noted it is necessary to strengthen regional legal mechanisms and intensify intelligence sharing to secure the region 's collective prosperity, peace and stability, in combating terrorism.
Bangladesh Chief Adviser Fakhruddin Ahmed echoed Rajapaksa's speech, saying SAARC "has crossed significant milestones" in forging closer cooperation and the 15th SAARC Summit should be "a turning point" in the bloc's endeavors for a more prosperous and peaceful South Asia.
Ahmed said poverty alleviation has been an over arching goal for SAARC, home to almost half of the world's poor, as global economic slowdown, soaring oil and food prices and growing threats of climate change are driving the destitute people of the region even further below the poverty line.
"I believe national action on poverty alleviation should be complemented by effective and robust regional initiatives in order to have a penetrative impact on poverty reduction in South Asia," he added.
India Prime Minister Manmohan Singh acknowledged in his address at the summit's inaugural session that South Asia has not moved as fast as they all would have wished.
"We have only to see the rapid integration within ASEAN (the Association of Southeast Asian Nations) and its emergence as an important economic bloc in Asia to understanding the opportunities that beckon," Singh said.