HAMBURG - Emirates Airlines took delivery Monday of the first of 58 Airbus A380 superjumbo planes it has ordered and said it had signed a multibillion dollar deal to buy 60 other aircraft from the European plane builder.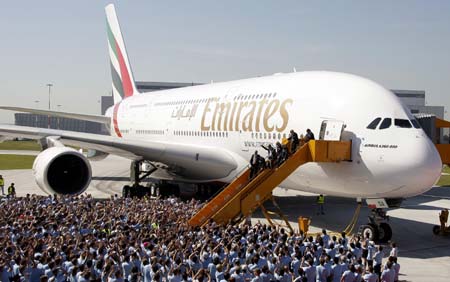 Airbus CEO Tom Enders, Sheikh Ahmed bin Saeed al-Maktoum, chairman and chief executive of Emirates Airlines Group, and Louis Gallois, CEO of European Aeronautic Defence and Space company (EADS), disembark from an A380 aircraft during a hand-over ceremony in Hamburg, July 28, 2008. [Agencies] 
The announcement came as the airline received the A380 in an elaborate hand-off ceremony in northern Germany.
Related readings:

 Airbus announced further delays of A380 program


 Singapore Airlines to fly A380 to Beijing due to Olympics demand


 Aircraft A380 to fly to Beijing ahead of Olympics


 Beijing has A380 maintenance hangar
Dubai-based Emirates said the deal to buy 30 A330-300s and 30 A350-XWB widebody passenger planes was part of its plans to expand its growing international network. Financial terms of the order and a delivery schedule were not revealed, however at current list prices, the deal was estimated to be worth about US$13 billion (euro8.3 billion).
"We are forging ahead with our expansion plans and the A330-300s and A350-XWBs will enable Emirates to continue its growth using modern fuel efficient aircraft," said Emirates chief executive Sheikh Ahmed bin Saeed Al-Maktoum.
The A380 has been in service since Singapore Airlines took delivery of the first of the double-decker A380 planes late last year. Singapore Airlines operates five of the 19 planes it ordered on long-haul routes to Asia, Australia and Europe.
The plane Emirates received Monday is on the far edge of luxury and comfort - the airline said it's the only commercial airline in the world equipped with showers. It also features spas, bars, lounges and some private suites for some of the 489 passengers it can carry.
Emirates has orders for another 57 A380s - the most ordered by any airline - and plans to use the plane for service between Dubai and destinations in Australia, New Zealand, London and New York.
"The first time I flew in an A380, I knew we were making the right choice," Al-Maktoum said at a ceremony marking the delivery at Airbus' Juergen Thomas Delivery Center. "We might not be the first to fly but we were the first to sign."