OSAKA, Japan -- Surging fuel and food prices and climate change were among the major topics of the G8 ministers session, which closed Saturday in the central Japanese city of Osaka.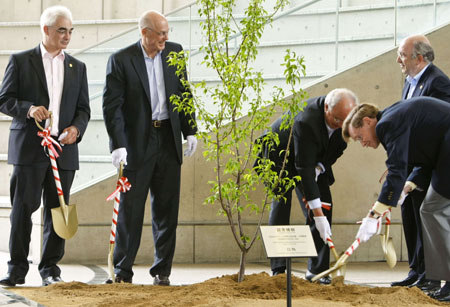 Slovenia's Finance Minister and EU Chairman Andrej Bajuk (3rd L) and World Bank President Robert Zoellick (2nd R) shovel dirt to plant a memorial tree as British Finance Minister Alistair Darling (L), U.S. Treasury Secretary Henry Paulson (2nd L), and Joaquin Almunia, Commissioner for Economic and Monetary Affairs at the European Commission, look on during the G8 Finance Ministers Meeting in Osaka, western Japan June 14, 2008. [Agencies]
In a statement released at the conclusion of the ministerial meeting, the financial chiefs remain optimistic about the world economy despite further declines in the U.S. housing prices, great strains in world financial market and elevated commodity prices, notably surging food and oil prices.
They reaffirmed their commitment to completing the strategy launched last October for strengthening the resilience of the financial system, urged oil producing countries to increase production and deemed it imperative to remove supply-side constraints and export restrictions on food.
Calling for urgent and concerted action, the G8 ministers stress strengthened efforts to assist developing countries in addressing climate change, and put forward concrete measures in the "G8 Action plan for Climate Change to Enhance the Engagement of Private and Public Financial institutions".
In support of African development, the finance ministers proposed improving the investment climate and strengthening the financial sector, which were termed as two pillars in "G8 Action Plan for Private Sector Led Growth in Africa."
The G8 Finance ministers meeting opened Friday in the run-up to the G8 summit scheduled for July 7-9 in at the Toyako (Lake Toya) resort area in Hakkaido.
Major issues such as surging fuel and food prices, climate change as well as aids to African development were among the major topics of the G8 ministers session.
During the session, two outreach meetings were held to discuss climate change and surging commodity prices.
Present at the outreach breakfast and dinner gatherings are ministerial participants from Brazil, Australia, Thailand, China, South Korea and South Africa.
European commission, the current EU chair Slovenia and other international organizations such as the International Monetary Fund, the Asian Development Bank, the International Energy Agency, the World Bank and the Financial Stability Forum were also invited to the two outreach meetings.