Tokyo -- A magnitude 7.2 earthquake ripped across the mountains and rice fields of northern Japan on Saturday, killing at least six people as it sheared off hillsides, jolted buildings and shook nuclear power plants. At least eight people were missing.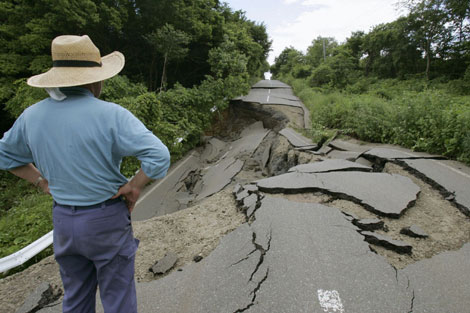 A man looks at a road destroyed by an earthquake in Oshu City, Iwate Prefecture June 14, 2008. A powerful 7.2-magnitude earthquake struck northern Japan on Saturday. [Agencies]
Military helicopters swarmed the quake zone 250 miles (400 kilometers) north of Tokyo, ferrying in supplies and flying the injured to hospitals. Officials said at least 144 people were injured, and landslides trapped 100 bathers at a hot spring resort. Local media reports said the number of injuries exceeded 200.
At a nuclear power plant in Fukushima, the jolt splashed 5 gallons (20 liters) of radioactive water from two pools storing spent fuel, but there was no leakage outside the plant, said Trade and Industry Ministry official Yoshinori Moriyama.
The force of the quake, which was followed by some 153 aftershocks, buckled many roads, including one highway that was severed when a stretch of land collapsed, creating a cliffside. Electricity was cut to about 29,000 households, though service was mostly restored by Saturday night.
"I couldn't do anything. I couldn't move," said Akiko Kikusawa, 82, who was among about a dozen people being served hot soup at an evacuation center near Kurihara, one of the worst-hit cities in northern Miyagi prefecture (state).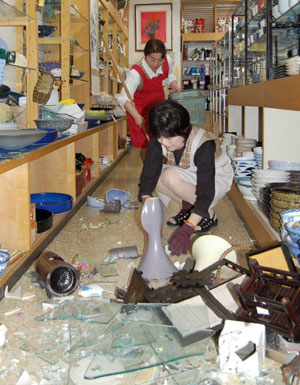 Women clean up smashed flower vases and other pottery in a store following an earthquake in Ichinoseki City, Iwate Prefecture June 14, 2008. [Agencies]
"But I'm among the lucky ones," she said. "The other people here lost their homes."
Hundreds of other people also took refuge, though damage in cities was limited because the quake struck mostly rural mountainous areas, where it triggered massive landslides.
Prime Minister Yasuo Fukuda said the government was mobilizing troops, police and "everybody we possibly can" to find the missing and to rescue and treat the injured. He ordered rescue workers to continue their efforts through the night.
"Our most important task is to save as many lives as possible, and we are doing the best we can," he said.
The six dead included a man who ran out of a building in fear and was hit by a passing truck, four people buried by landslides and a construction worker hit by a falling rock at a dam, officials said.
The early morning quake was centered in the northern prefecture of Iwate, and was located about five miles (eight kilometers) underground. It was felt as far away as Tokyo.
The quake also knocked down equipment and car parts at the Iwate factory of Kanoto Auto Works Ltd., a Toyota Motor Corp. subsidiary that assembles popular Corollas and other models, company spokeswoman Seiko Watanabe said. The company has not decided whether to resume production Monday.
A semiconductor subsidiary of Fujitsu Ltd. halted production "as a precaution," but there was no major damage to the building or equipment, company spokesman Yasuhiko Youdou said.
Rescuers said their top problem was the fractured road system, which stopped them from reaching isolated hamlets in the damage zone.
"We're getting growing reports of damage, but we can't even get out there to assess the situation with roads closed off because of landslides," said Norio Sato, an official in Kurihara, one of the hardest-hit towns.
A landslide in Kurihara buried 15 construction workers. Twelve managed to dig themselves out, but two others were killed and one remained missing. Seven people at Komanoyu hot springs were also missing after a separate landslide hit the resort, said another city official, Katsuyuki Sato.
A dozen helicopters and patrol aircraft were dispatched, and the disaster agency mobilized about 760 rescue workers. The government also sent a CH-47 helicopter carrying Disaster Minister Shinya Izumi to the region.
"The extent of damage to roads and bridges was much larger than I had expected," Izumi told reporters.
Local governors were asking for more troops.
Television footage showed landslides on rural roads running along mountains separated by long stretches of rice fields. Videos aired by public broadcaster NHK also showed a bridge that collapsed.
Videos from the closest large city, Sendai, showed the force of the quake shook surveillance cameras for 30 seconds. Still, Sendai appeared largely unscathed.
"Everything is normal," HidekAP. "Phone lines, water and electricity are all working right now."
Japan is one of the most earthquake-prone areas in the world. The most recent major quake in Japan killed more than 6,400 people in the city of Kobe in January 1995.