WASHINGTON -- US President George W. Bush proposed in a climate change speech on Wednesday that the United States should halt its growth of greenhouse gas emissions by 2025.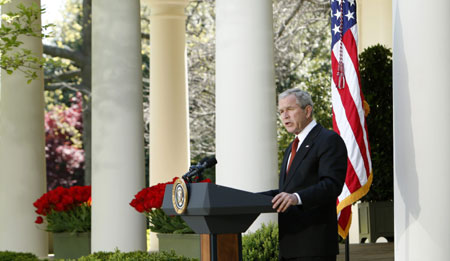 US President George W. Bush makes remarks on the climate in the Rose Garden at the White House in Washington, April 16, 2008. [Agencies]
"Today, I am announcing a new national goal: to stop the growth of US greenhouse gas emissions by 2025," he said at the White House, adding that power plant emissions should be slowed so they peak over the next 10 to 15 years and decline thereafter.
However, Bush did not mention any mandatory cap on US emissions or the detailed measures to reach the new "realistic" goal. Therefore, analysts saw little difference between the new proposal Bush floated and the administration's current position.
Related readings:


 UN climate talks agree on agenda for 2009 pact


 US aims to ease criticism in climate by active posture


 US not shamed about being Kyoto Protocol outsider
And Bush's new goal is also far short of European partner's. By 2020, the European Union plans to unilaterally cut emissions by 20 percent compared to 1990 levels.
Bush's speech came on the eve of the third major economies meeting on energy security and climate change, which is convened by Bush administration and will be taking place this Thursday and Friday in Paris, France. The series of major economy meetings aim to form a new international frame for climate change.
The current 1997 Kyoto Protocol will expire by 2012. And the United States is now the only one among major industrialized countries in rejecting the carbon-capping Kyoto, which Bush administration said will "harm US economy."
Bush administration has always stressed that every major economy, including fast-growing nations like China and India, should take responsibility to cut the emissions and to establish a new international climate agreement.
"The right way is to ensure that all major economies are bound to take action and to work cooperatively with our partners for a fair and effective international climate agreement," he reiterated in Wednesday's speech.
While Bush's speech marks a shift in dealing with climate change by acknowledging the need to put curbs on greenhouse gas emissions, he still opposed any mandatory cap and insisted that new clean energy technologies is the key to address climate change.
However, with about nine months left in White House, Bush may have little time or power to influence the debate on the climate change-related proposals provided by US lawmakers.
"President Bush's announcement will be soon forgotten," David Sandalow, an energy and global warming expert at the Brookings Institution in Washington, said in a statement. "The most important decisions in the international global-warming negotiations will be made once President Bush leaves office."
After Bush's address on Wednesday, activists were quick to criticize the move. The Sierra Club, an influential environmental group in U.S., said Bush's target was woefully deficient. "

Scientists tell us that we need to cut total emissions at least 15-20 percent by 2020 and 80 percent by 2050 in order to prevent the most catastrophic effects of global warming," executive director Carl Pope was quoted by AFP as saying. "Merely halting the growth of emissions is grossly insufficient," he said.