Albany, NY - With pressure mounting on New York Gov. Eliot Spitzer to resign over a call-girl scandal, investigators said Tuesday he was clearly a repeat customer who spent tens of thousands of dollars -- perhaps as much as $80,000 -- with the high-priced prostitution service over an extended period of time.
Spitzer and his family, meanwhile, remained secluded in their Fifth Avenue apartment, while Republicans began talking impeachment, and few if any fellow Democrats came forward to defend him. A death watch of sorts began at the state Capitol, where whispers of "What have you heard?" echoed through nearly every hallway of the ornate, 109-year-old building.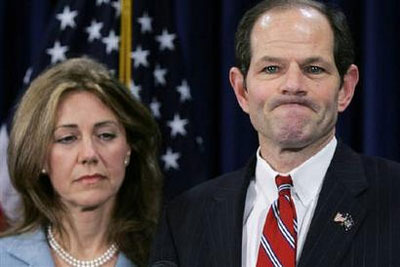 New York Governor Eliot Spitzer addresses the media with his wife Silda Wall Spitzer at his office in New York, March 10, 2008. [Agencies]
On Monday, when the scandal broke, prosecutors said in court papers that Spitzer had been caught on a wiretap spending $4,300 with the Emperors Club VIP call-girl service, with some of the money going toward a night with a prostitute named Kristen, and the rest to be used as credit toward future trysts. The papers also suggested that Spitzer had done this before.
Speaking on condition of anonymity, a law enforcement official said Tuesday that Spitzer, in fact, had spent tens of thousands of dollars with the Emperors Club. Another official said the amount could be as high as $80,000. But it was not clear over what period of time that was spent.
Still another law enforcement official said investigators found that during the tryst with Kristen on the night before Valentine's Day, Spitzer used two rooms at the Mayflower Hotel in Washington -- one for himself, the other for the prostitute. Sometime around 10 pm, Spitzer sneaked away from his security detail and made his way to the room where she was waiting, the official said. The three officials spoke on condition of anonymity because of the sensitivity of the case.
In the court papers, an Emperors Club employee was quoted as telling Kristen that Client 9 -- Spitzer, according to investigators -- "would ask you to do things that ... you might not think were safe," and Kristen responded by saying: "I have a way of dealing with that. ... I'd be, like, listen, dude, you really want the sex?"
A law enforcement official said Tuesday the discussion had to do with Spitzer's preference not to wear a condom and the call-girl's insistence that he use one.
Spitzer's vast personal wealth would have made it easy for him to spend thousands of dollars on prostitutes. The scion of a wealthy Manhattan real estate developer, Spitzer reported $1.9 million in income to the IRS in 2006.
Meanwhile, Albany insiders on Tuesday said the governor was still trying to decide how to proceed. Options included quitting immediately, or waiting to use resignation as a bargaining chip with federal prosecutors to avoid indictment.
Democrats privately floated another option, telling The Associated Press that Spitzer was considering what was almost unthinkable immediately after Monday's bombshell apology: hanging on.
"If the public is fine, he'll stay," said a Democrat who spoke on condition of anonymity because of the sensitivity of the subject.
Still, Spitzer's many enemies from Albany and Wall Street were emboldened, and some of his friends went from shock to outrage.
"Particularly because of the reform platform on which he was elected governor, his ability to govern the state of New York and execute his duties as governor have been irreparably damaged," said Citizens Union, a good-government group that supported the crusading attorney general for governor in 2006 and provided critical support in his effort to reform Albany. "It is our strong belief that it is now impossible for him to fulfill his responsibilities as governor. Accordingly, Citizens Union urges him to resign as governor."
The case against Spitzer, a 48-year-old married man with three teenage daughters, started when banks noticed frequent cash transfers from several accounts and filed suspicious-activity reports with the Internal Revenue Service, a law enforcement official said. The accounts were traced back to Spitzer, prompting public corruption investigators to open an inquiry.
The governor has not been charged, and prosecutors would not comment on the case. Michele Hirshman, Spitzer's former deputy attorney general and now a member of the high-powered New York law firm of Paul, Weiss, Rifkind, Wharton & Garrison, has been retained to represent the governor.
In Albany, legislative leaders said Democratic Lt. Gov. David Paterson, who would become governor if Spitzer resigned, was talking to them about a possible transition. Paterson's office wouldn't confirm the conversations.
Reporters, government workers and the public milled around the state Capitol on Tuesday, waiting for any developments. News vans lined up around the building, and camera operators sat next to their tripods on the front lawn waiting for something to happen.
Assembly Republican leader James Tedisco warned that if Spitzer did not resign within 48 hours, he would call for impeachment. But any impeachment would face a difficult road in the Democrat-controlled Assembly, where articles impeachment would require a majority vote to go to a trial. A trial would be decided by a combined vote of the full Senate, which has a slim GOP majority, and the Court of Appeals.
Tedisco was an early target of Spitzer's abrasive and uncompromising style in Albany. In a private call, an angry Spitzer once described himself to Tedisco as a "steamroller" -- he attached a profanity for emphasis -- and warned: "I'll roll over you and anybody else."
Privately, several Democrats in the Legislature and in the administration said resignation appeared inevitable. "He's weighing the rest of his life," one Democratic official said sadly.
Late Tuesday, freshman Rep. Kirsten Gillibrand became the first Democratic member of New York's congressional delegation to mention resignation. "This is very grave and sad news," she said. "If these serious allegations are true, the governor will have no choice but to resign."
But more than a day after the scandal broke, Sen. Hillary Rodham Clinton and other senior Democrats in the delegation had yet to call on Spitzer to quit.
On Wall Street, where Spitzer built his reputation as a crusader against shady practices and overly generous compensation, cheers and laughter erupted Monday from the trading floor when news broke of his potential ruin.
Many in the financial industry had long complained that the man known as "Mr. Clean" and the "Sheriff of Wall Street" was a sanctimonious bully who was just trying to advance his political career. Many Wall Streeters were delighted to see him get his comeuppance.
"The irony and the hypocrisy is almost too good to be true," said Bryn Dolan, a fundraiser who works with many Wall Street employees. "If he had any shame, he would've already resigned."