NASHVILLE, Tenn - Tornadoes and thunderstorms flattened the land and shattered lives across the US South on Tuesday and Wednesday, killing at least 55 people and injuring more than 150 in the deadliest such storms in nine years.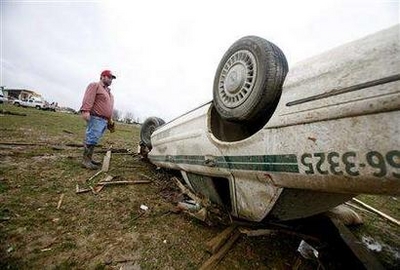 Tim Gulley stands next to an overturned police car after tornadoes hit Lafayette, Tennessee, February 6, 2008. [Agencies]
In Tennessee's Sumner County, northeast of Nashville, a tornado sucked an 11-month-old boy and his mother from their home. They were found later in a field. The child survived in good condition, but his mother was dead.
Tennessee Gov. Phil Bredesen said he was shocked by the intensity and scope of a storm that "just literally sat on the ground in wide areas" along a track that was as much as 400 miles (643 km) wide.
At Vanderbilt Hospital in Nashville, Ferina Ferrington told a local TV reporter: "My husband and I got into the bathtub with our little girl. I remember flying through the air. It was very scary. Then it was real quiet and we saw our house was gone. Our baby was unhurt."
President George W. Bush will travel to Tennessee on Friday to survey the storm damage and offer his support to those affected, said White House spokesman Scott Stanzel.
In Arkansas where almost 500 homes and businesses were destroyed or heavily damaged in four counties, Johnny Martin, 65, gathered belongings from his brick and wood home which lay shattered beneath massive oak trees in the town of Atkins, west of Little Rock.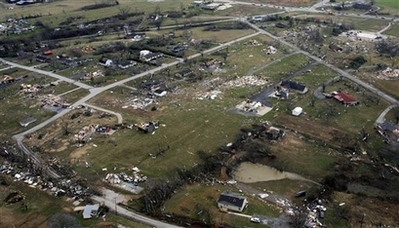 This aerial photo taken above Lafayette Tenn., on Wednesday, February 6, 2008, shows damage to homes and property from Tuesday night's severe storms. [Agencies]
"We all huddled in the bathroom," Martin said of his wife, mother-in-law and other family members. "I was standing at first at the front door when I heard it ... The Lord was with us."
Hardest hit were Tennessee -- where 30 people died -- Arkansas, Kentucky, Mississippi and Alabama. There were unconfirmed reports of 69 tornadoes swirling across those states and northward into Indiana, according to the National Storm Prediction Center in Norman, Oklahoma.
The death toll rivaled that of a series of tornadoes in May 1999 in Oklahoma, Texas and other states, when about 50 people were killed, the center said. Tornadoes typically kill about 70 people in the United States each year.
Trail of Devastation
The weather service and state officials said that in addition to the 30 killed in Tennessee, there were 13 dead in Arkansas, seven in Kentucky and four in Alabama. Injuries were widespread, with 149 people hurt in Tennessee alone.
"We know of eight dead and are still looking," said Shelvy Linville, mayor of Lafayette, Tennessee. "There's a lot of devastation."
Power outages were widespread. One tornado struck the Columbia Gulf Transmission company in Hartsville, Tennessee, and set off a natural gas fire that lit up the early morning sky, officials said.
Kentucky Gov. Steve Beshear described to CNN a trail of devastation in his state seen from the air.
"In the path of it there is nothing left and on either side of it things are standing just like nothing has happened. It's an amazing picture to see."
Inspection of the damage began mid-morning on Wednesday, with the last tornado reported a few hours earlier in Jackson County, northeastern Alabama, the weather service said. Late in the day forecasters said there was no longer a threat of severe weather across the region.
In Alabama, Tina Johnson, 41, of Pinhook, said she watched from her house as a tornado tore apart her barn.
"The lightning and rain started back up suddenly and then we could see the funnel cloud through the lightning," she said. "The preacher's brick house across the street was destroyed and a mobile home nearby was nothing but a few pieces of tin."
Kentucky National Guard spokesman David Altom said about 50 soldiers were deployed and others on stand-by. "The mission right now is to protect the damaged homes from looting," he said.
The White House said Bush had called the governors of the affected states offering them consolation and support.
Mississippi reported no deaths but about 11 injuries after two tornadoes ripped across an industrial park, seriously damaging a Caterpillar factory, and farm communities north of the University of Mississippi campus in Oxford.
In Jackson, Tennessee, a tornado damaged most of the student housing at Union University, injuring more than 50 students, though none of the injuries was life threatening.