WASHINGTON -- President Bush's 2009 budget will virtually freeze most domestic programs and seek nearly $200 billion in savings from federal health care programs, a senior administration official said Thursday.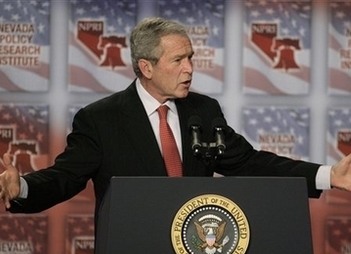 President Bush delivers remarks on the global war on terror, Thursday, Jan. 31, 2008, in Las Vegas. [Agencies]
Overall, the Bush budget will exceed $3 trillion, this official said. The deficit is expected to reach about $400 billion for this year and next.
Bush on Monday will present his proposed budget for the new fiscal year to Congress, where it's unlikely to gain much traction in the midst of a presidential campaign. The president has promised a plan that would erase the budget deficit by 2012 if his policies are followed.
To that end, Bush will propose nearly $178 billion in savings from Medicare over five years-- nearly triple what he proposed last year. Much of the savings would come from freezing reimbursement rates for most health care providers for three years. An additional $17 billion would come from the Medicaid program, the state-federal partnership that provides health coverage to the poor.
The budget for most domestic programs funded by Congress will look similar to last year's, according to the official, from the Office of Management and Budget.
Related readings:


 Bush signs budget on war funds, other expenses


 Congress gets Bush's '08 budget plan


 Bush unveils $716.5b defense budget


 Bush budget centers on military, Iraq
"It's a very small increase," he said. "Very small."
A second administration official said domestic discretionary spending would increase by less than 1 percent under Bush's proposal.
Both officials spoke on condition of anonymity because the budget has not yet been released
In his State of the Union address Monday, Bush said his budget envisioned a surplus in 2012. "American families have to balance their budgets, and so should their government," he said.
The federal government is expected to spend about $650 billion on Medicare and Medicaid in 2008. It represents more than $1 out of every $5 spent by the federal government.
The OMB official said the president views the budget as a final opportunity to slow the growth of entitlement programs but recognizes that Congress probably won't go along.