RAWALPINDI, Pakistan - Pakistan opposition leader Benazir Bhutto was assassinated Thursday in a suicide attack that also killed at least 20 others at a campaign rally, aides said.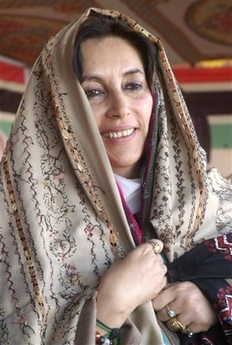 Pakistan's former Prime Minister Benazir Bhutto wears a shawl presented by her supporters, a gesture of respect, during her visit to Peshawar, Pakistan, Wednesday, Dec. 26, 2007. [Agencies]
"The surgeons confirmed that she has been martyred," Bhutto's lawyer Babar Awan said.
Related readings:

Blasts near Bhutto kill 126 in Pakistan

30 dead in blasts near Bhutto in Karachi


Fraud case against Bhutto dropped


Bhutto gears up for Pakistani election, Sharif opts for boycott


Bhutto files for nomination in upcoming elections


Bhutto leaves Karachi for Islamabad


Bhutto rejects caretaker government


Bhutto tells Musharraf to quit as president


Bhutto placed under house arrest


Two suicide bombers likely behind Bhutto attack: Official
A party security adviser said Bhutto was shot in neck and chest as she got into her vehicle to leave the rally in Rawalpindi near the capital Islamabad. A gunman then blew himself up.
"At 6:16 p.m. she expired," said Wasif Ali Khan, a member of Bhutto's party who was at Rawalpindi General Hospital where she was taken after the attack.
At least 20 others were killed in the blast that took place as Bhutto left a political rally where she addressed thousands of supporters in her campaign for Jan. 8 parliamentary elections.
Bhutto served twice as Pakistan's prime minister between 1988 and 1996. She had returned to Pakistan from an eight-year exile Oct. 18.
Her homecoming parade in Karachi was also targeted by a suicide attacker, killing more than 140 people. On that occasion she narrowly escaped injury.