BANGKOK - Thailand's Election Commission (EC) has initially completed the counting of all votes cast in Sunday's general election, in which the pro-Thaksin People Power Party (PPP) gained 228 member of parliament (MP) seats in the 480-member House of Representatives, sources said Monday morning.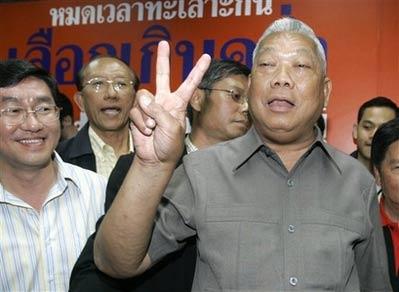 Samak Sundaravej, leader of People's Power Party(PPP) flashes a victory sign after a press conference at the party's headquarters Sunday, Dec. 23, 2007, in Bangkok, Thailand. [Xinhua] 
The second place racer is the Democrat Party, which takes 166 seats, followed by the Chart Thai Party (Thai Nation Party) with 39 seats, and Puea Paendin Party (For the Motherland Party) with 26 seats.
The tally, which began right after the 88,500 polling stations around Thailand closed at 3 p.m. (0800 GMT) Sunday, continued into midnight.
The latest results echoed those released by the EC late Sunday night, with 92 percent of votes counted seven hours after the voting closed.
The EC has said it will announce the complete unofficial results at around 10:30 a.m. Monday (0330 GMT).
Streets in the normally chaotic and busy downtown Bangkok appeared much quieter on Monday, declared by the government as an extra holiday, as many Thais were expected to take a holiday trip out of Bangkok.
Newspapers here on Monday quoted reports from Washington as saying that the United States government has praised Sunday's election for being conducted "free and fair".
"The United States welcomes initial reports indicating that Thailand's parliamentary election today was conducted in a free and fair manner and congratulates the people of Thailand on taking this crucial step toward a return to elected government," said State Department spokesman Sean McCormack, according to the State Department website.