London - Princess Diana's letters to "Darling Dodi" were read Friday at the inquest into the deaths of the couple.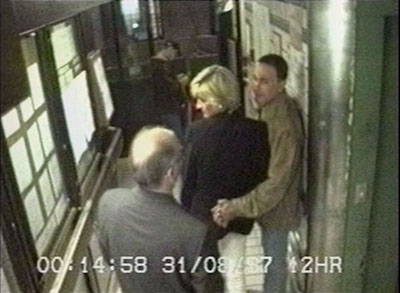 Princess Diana (C) and Dodi al-Fayed (R) wait at the rear service exit of the Ritz hotel in Paris in this August 31, 1997 video grab taken from CCTV footage received from the court holding the Coroner's Inquest into the deaths of Diana, Princess of Wales, and Dodi al-Fayed, in London October 4, 2007. The footage was shown to the court as part of the evidence presented to the jury. [Agencies]
In a letter thanking Dodi Fayed for a six-day holiday on his yacht in the summer of 1997, Diana wrote: "This comes with all the love in the world and as always a million heartfelt thanks for bringing such joy into this chick's life."
Michael Mansfield, a lawyer for Fayed's father, Mohamed Al Fayed, also produced a letter which the princess sent with a gift of cufflinks.
"Darling Dodi, these cufflinks were the very last gift from the man I loved most in the world, my father," she wrote.
"They are given to you as I know how much joy it would give him to know they were in such safe and special hands. Fondest love, Diana."
Mansfield introduced the letters as he questioned Diana's friend Rosa Monckton, who had said on Thursday that she believed Diana was still recovering from a previous relationship when her romance with Fayed bloomed.
"She was treating this relationship with Dodi as a serious matter wasn't she? It doesn't suggest it was little more than a fling after a couple of days," Mansfield said.
"She tended to speak and write in an extravagant way," Monckton replied, but agreed that the sentiment was genuine.
Monckton quoted Diana as saying she would still have been in a relationship with heart surgeon Hasnat Khan, but Khan could not cope with the publicity that followed the princess and ended the relationship.
Monckton rejected Mansfield's suggestion that Diana had dropped Khan because she had fallen in love with Fayed.
"She told me Hasnat would never have her back once the photographs of her with Dodi had appeared and she was very upset about it," Monckton said.
Monckton said as she left court that she was glad her part in the inquest was over.
"Some of the questioning was rather aggressive, but I just told what I knew," Monckton said outside court.
Diana and Dodi Fayed died as a result of a car crash on the night of August 31, 1997, as they were being driven through the streets of Paris. French and British police have concluded that driver Henri Paul, the acting security chief at the Ritz Hotel in Paris, was well over the legal alcohol limit.
Fayed's father, Mohamed Al Fayed, claims the couple were targets of a plot directed by Prince Philip, husband of Queen Elizabeth II, and carried out by British intelligence agents.