Bali - The US and Europe headed toward a compromise solution Friday at the UN climate conference, breaking a deadlock over how ambitious the goal should be in negotiating future cutbacks in global warming gases, the German environment minister said.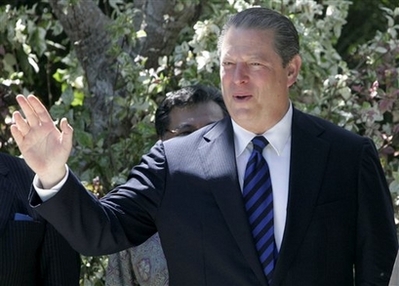 Former US vice president and Nobel Peace Prize winner Al Gore waves to journalists upon arrival for his meeting with Indonesian President Susilo Bambang Yudhoyono in Jimbaran on Bali island, Indonesia, December 14, 2007. [Agencies]
"I think the situation is good ... and we will have success in the end," Sigmar Gabriel told reporters, declining to give details of the talks. "We are sure we are able to reach an agreement."
The outcome may help determine how high the planet's temperatures rise for decades to come.
In the final day of the two-week conference, delegates sparred over the wording of a conference final document until 2:30 am. Drafters then retired to craft new formulations in contentious passages - most notably the European Union's suggestion of a goal of emissions reductions from 25 percent to 40 percent below 1990 levels by 2020.
Trying to break the deadlock, Indonesia's Environment Minister Rachmat Witoelar - the conference president - later proposed revised language dropping those mid-range numbers, but still reaffirming that emissions should be reduced at least by half by 2050.
The UN climate chief, Yvo de Boer, told reporters the mid-range 25-to-40 percent was implicit - "an inevitable stop on that road" - in the 50 percent goal for midcentury.
Witoelar's proposal gave the two sides room to work out the long-expected compromise, producing a relatively vague mandate for two years of negotiations.
The task before the annual assembly was to launch negotiations for a regime of deeper emissions reductions to succeed the Kyoto Protocol, which requires 37 industrial nations to cut output of carbon dioxide and other greenhouse gases by 5 percent below 1990 levels by 2012.
The United States is the only major industrial nation to reject Kyoto. The Bush administration instead favors a voluntary approach, with each country deciding how it can contribute, over internationally negotiated and legally binding commitments.