Baghdad - A female suicide bomber attacked the offices of an anti-al-Qaida group that has joined forces with the US, killing 12 people Friday in one of Iraq's most violent provinces, police and the US military said.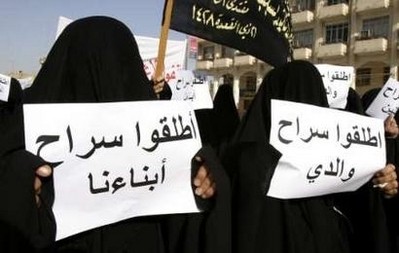 Veiled Shi'ite worshippers hold placards during a rally after Friday prayers in the holy city of Kerbala, 110 km (68 miles) south of Baghdad December 7, 2007. Dozens of demonstrators marched in the streets of Kerbala on Friday demanding the release of members of Sadr movement arrested by the police. Arabic inscription on the placards read, "Release my son, release my father". [Agencies]
A second attack at a checkpoint manned by Iraqi soldiers and another of the US-backed groups killed 10 people, an Iraqi army officer said.
The attacks highlighted the dangers for the US-backed groups, which often include former insurgents who have turned against al-Qaida in Iraq. The groups are credited with helping stem Iraq's violence along with the influx of US troops.
Both bombings were in Diyala province, which remains one of the country's most violent regions despite dramatic security gains in Baghdad and elsewhere.
In the first attack, in the city of Muqdadiyah, 10 of those killed were members of the local anti-al-Qaida group who have partnered with US and Iraqi forces to rid their neighborhood of militants, said Brig. Gen. Mohammed al-Tamimi, the city police chief, who said the bombing claimed 15 lives. The US military said 12 people died.
Another police official said the suicide bomber, who had detonated an explosives belt, was a former member of Saddam Hussein's Baath Party and identified her as Suhaila Hussein Ali. The official spoke on condition of anonymity because he was not authorized to release details of the attack.
It was the second suicide attack involving a woman in less than two weeks. On Nov. 27, a woman blew herself up near an American patrol near Diyala's provincial capital Baqouba, wounding seven US troops and five Iraqis, the US military said.