VLADIVOSTOK, Russia - Russians voted Sunday in a parliamentary election set to hand President Vladimir Putin's party a huge majority and reinforce his campaign to retain authority after leaving the Kremlin.
Polls opened in Russia's Far East after a three-month campaign.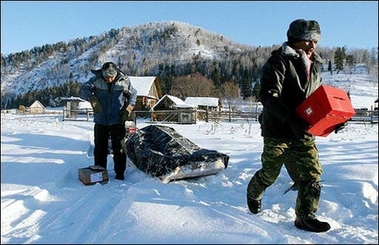 Members of an electoral voting commission bring ballots to villagers in the remote Siberian village of Shor-Taiga, some 4000 kms east of Moscow, so that the villagers can vote in Russia's parliamentary elections.[Agencies]
The first votes were cast on Russia's Pacific coast at 8 am Sunday (2000 GMT Saturday) with early results expected 22 hours later after the final ballots are cast in the Baltic Sea enclave of Kaliningrad at 8 pm on Sunday (1800 GMT).
Dozens of conscript sailors in long black coats queued to vote at School Number 1 in the centre of Vladivostok, the capital of Russia's Far East shortly after polls opened.
"I'll vote for United Russia," said Vladimir Babikov, 19, shifting to keep warm in the biting sea breeze. "They've done a good job, everything is getting better."
Opinion polls predicted United Russia would win at least 62 percent of the vote, securing them a large majority of the 450-seat lower house, the State Duma, with the Communist Party trailing behind with some 12 percent.
"I believe in Putin, he's made our lives better," said pensioner Galina Nikolayeva after voting for United Russia in the town of Petropavlovsk-Kamchatsky. "I'd like Putin to remain president, but if he's part of United Russia he can still do something for us."
With their domination of the legislature all but guaranteed, United Russia cast the elections as a referendum on Putin's rule, saying that a vote for the party would safeguard the country's oil-driven economic boom and stability.
"The result of the parliamentary elections will, without a doubt, set the tone for the elections for a new president," Putin said in a televised address on Thursday.
Former KGB officer Putin, who has ruled Russia since 2000, is banned by the constitution from running for a third consecutive term in the March 2008 presidential election. With under a month to go before a deadline for candidates to declare for the Kremlin race, the field remains wide open.
Putin and his Kremlin allies are hoping that a strong victory coupled with a high turnout in Sunday's polls will give them a free hand to lay the groundwork for the presidential vote, analysts say.
Most of the country's top politicians were to vote in Moscow, where polls were due to open at 0500 GMT Sunday.