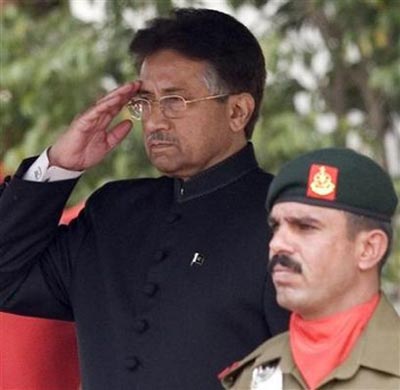 Pakistan's President Pervez Musharraf salutes the guard of honor after being sworn in as president at the President House in Islamabad Nov. 29, 2007. [Xinhua] 
Musharraf said Pakistan was currently stable economically and the development in the country was actively moving at a fast pace. He said he had put the country back on track and fulfilled the promise of bringing democracy to Pakistan.  
At a grand ceremony held in the garrison city of Rawalpindi, Musharraf handed over the command of the army to General Asfhaq Pervaiz Kayani on Wednesday.
Musharraf would stand retired after he relinquished the post as army chief, a notification of the Ministry of Defense said.
Musharraf took oath as a civilian president at the Presidency here on Thursday, starting another 5-year term.
"I believe Pakistan will grow stronger with me as a civilian president and General Kayani as the chief of army staff," Musharraf said in an address on Thursday morning.