Striking images from a countdown to death: Princess Diana salutes her driver; the driver waves to paparazzi lurking at the back of the Ritz Hotel; officially declared drunk at the time, the driver squats to tie his shoes without so much as a wobble.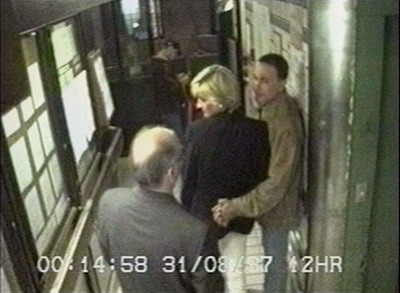 Princess Diana (C) and Dodi al-Fayed (R) wait at the rear service exit of the Ritz hotel in Paris in this August 31, 1997 video grab taken from CCTV footage received from the court holding the Coroner's Inquest into the deaths of Diana, Princess of Wales, and Dodi al-Fayed, in London October 4, 2007. The footage was shown to the court as part of the evidence presented to the jury. [Agencies]
These decade-old scenes collected from 31 security cameras at the Hotel Ritz in Paris were shown on Thursday to a jury that eventually must decide what, if anything, they signify about how the driver, the princess and her boyfriend came to die in a car crash.
Much of the imagery presented on Thursday showed the growing crowd of photographers and bystanders at the front of the hotel hoping to see Diana with Dodi Fayed, her latest boyfriend.
The action, however, was at the back of the hotel at the service entrance, where Diana and Fayed are seen standing for 7 minutes waiting for their car, his left arm protectively around her waist.
Henri Paul, the driver who died with the couple in the early hours of August 31, 1997, is seen popping in and out of the service entrance, apparently looking for the car.
Minutes before the car arrives, he spots photographers Serge Benhamou and Jacques Langevin standing on the opposite side of the Rue Cambon. Paul waves, and goes back inside.
In another scene, he talks to Diana and Fayed, and the princess responds with a left-handed salute.
Once the car arrives, the couple jump in, Paul takes the wheel and they are off within seconds, pursued by photographers Benhamou, Langevin, David Odekerken and Fabrice Chassery.
About 15 minutes later, Paul lost control in the Pont d'Alma tunnel. Bodyguard Trevor Rees-Jones was the only survivor.
Paul, the acting head of security at the hotel, is a key figure. French and British police both concluded that he had double the legal limit of alcohol in his blood, and lost control of the car as it raced ahead of pursuing photographers.