NEW YORK - Wall Street ended its calmest week in a month with a big advance Friday, rising on solid economic readings that countered the bleak sentiment that has blanketed the financial markets. The Dow Jones industrial average rose more than 140 points in a lightly traded session.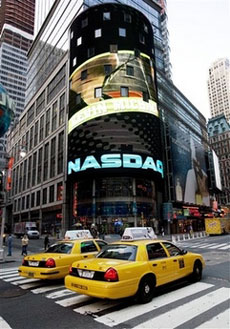 Traffic passes the Nasdaq stock market in this June 19, 2007 file photo in New York. The Nasdaq Stock Market, facing a challenge to its bid for a Nordic exchange, said Monday, Aug. 20, 2007. it will offload its 31 percent stake in the London Stock Exchange. [AP Photo]
Stocks started out flat but jumped following a stronger-than-expected reading on new homes sales for July. That report came after a reading showing orders to factories for big-ticket goods rose sharply last month.
The stock market's gains Friday after several stable or positive sessions suggested that Federal Reserve policymakers and stock market investors have perhaps struck a truce — maybe only a tenuous one — with the Fed acknowledging it stands ready to try to fend off a calamitous seizing up of the credit markets and investors willing to focus on readings on the health of the economy before making decisions.
"I think we've stabilized a bit since the Fed has lowered the discount rate," said Nicholas Raich, director of research at National City Private Client Group in Cleveland, referring to the Fed's decision a week ago to cut the interest it charges to lend directly to banks. "That has calmed the market and eased some fears because we have a Fed that is willing to step in and help out."
After weeks of volatility in which triple-digit drops in the Dow became the norm, stocks showed more modest action this week. Investors tried to gain perspective on the troubles in the subprime mortgage market, which serves borrowers with weak credit, and the credit markets as a whole. In addition, moves by some investment banks to invest in subprime lenders and to borrow money from the Fed advanced a sense that the credit market troubles could be contained. A bit of merger news — often a catalyst for sending stocks higher — helped embolden some investors.
The Dow rose 142.99, or 1.08 percent, Friday, closing at 13,378.87.
Broader stock indicators also advanced sharply. The Standard & Poor's 500 index rose 16.87, or 1.15 percent, to 1,479.37. The Nasdaq composite index rose 34.99, or 1.38 percent, to 2,576.69.
For the week, the Dow rose 2.29 percent, its biggest point gain since the week ended April 20. The blue chips now sit about 622 points, or 4.7 percent, below their July 19 record close.
The S&P 500 and the Nasdaq saw their biggest weekly point gains since the weeks ended March 23. The S&P rose 2.31 percent, and the Nasdaq added 2.86 percent.
Bonds had a big week. Investors initially nervous about seemingly any form of risk fled some commercial paper, the bonds that companies sell to get quick cash, and shoehorned into safer short-term Treasurys. As the week continued, they gradually ventured back into longer-duration securities and stocks.
Bonds rose Friday, with the yield on the benchmark 10-year Treasury note falling to 4.62 percent from 4.63 percent late Thursday; bond prices move opposite their yields. The dollar was mixed against other major currencies, while gold prices rose.