US President George W. Bush, meeting a top-level Chinese trade delegation at the White House, said Thursday that China should import American beef, while repeating his administration's years-old demand that Beijing needs to rake up the value of its currency.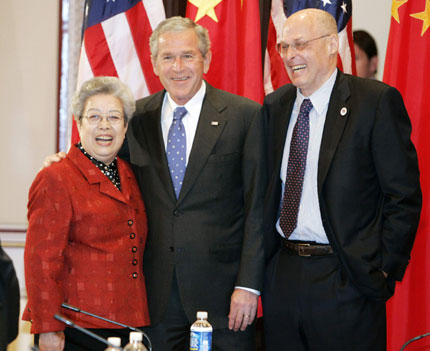 US President George W. Bush (C) and US Secretary of Treasury Henry Paulson (R) welcome Chinese Vice Premier Wu Yi to the Eisenhower Executive Office Building in the White House complex in Washington, May 24, 2007. [Reuters]


Vice-Premier Wu Yi, who is leading a team comprising of a dozen Chinese cabinet ministers to attend the second round of China-America Strategic Economic Dialogue in Washington, said consultations will resolve trade disputes, should any disagreements crop up.
Bush agreed. Addressing a press corps at the White House, Bush said: "This is an important dialogue. And it's one that I thank the Chinese government for engaging in."
Video:
China urges patience, US urges action at talks
Special coverage:
China-US Economic Dialogue

Related readings:
Wu: Dialogue key to resolve trade disputes
Wu aims to deflect US Congress pressure
US wants more flights to China
Tariffs change to balance trade
AmCham: There's potential for progress
Bank deals promote exports
Mechanism to build long-term ties
US looking to ease China trade tensions
Optimism high at second trade talks
Wu Yi urges US to ease curbs
However, Bush urged China to quicken the pace of yuan revaluation. "One of the issues I emphasized to Madame Wu Yi ... was that we're watching very carefully as to whether or not they will appreciate their currency," Bush told reporters.
Wu Yi, China's top woman trouble-shooter, said attempts to pressure China to carry out a significant revaluation of the yuan would not be helpful, and could jeopardize the interests of the two countries.
Beijing is willing to promote flexibility of its currency, but it will keep the yuan "basically stable at a reasonable, balanced level," said Wu.
Washington also wanted Beijing to open its market wider to US goods. "One area where I have been disappointed is beef," Bush said to reporters after meeting with Wu. "They need to be eating US beef. It's good for them," he said. "They'll like it."
China stopped importing US beef when mad cow disease surfaced in the United States in 2003. The World Organization for Animal Health, or OIE, announced Tuesday that it now considered the United States as a "controlled risk" country for the feared bovine spongiform encephalopathy, or mad cow, a downgrading of its earlier assessment of the potential dangers.
To cut the mighty bilateral trade imbalance, which the US Commerce Department put at more than US$ 230 billion last year, China has been asking the United States to sell it more high-tech products, such as satellites and super computers, which Washington has imposed shipment restrictions on China. Wu Yi said the restrictions had effectively diminished US share in China's booming market.
US lawmakers who had met Wu Yi said they intend to move ahead with legislative measures, some of which propose levying punitive higher duties on Chinese imports, to offset "an unfairly cheap yuan" which they believe having made Chinese goods easier access to the US market.
Some of the world's renowned economists have said that inexpensive Chinese shipments have contributed to low US interest rates, making its economy (and other major world economies) on a continuous growth, and enabled the majority of the middle-class American consumers to enjoy a quality livelihood.
RMB Reform will Continue in Orderly Way
The floating band of the renminbi exchange rate will continue to expand as the market changes in the future, Wu Yi said.
"China's exchange rate reform will be advanced in an orderly way, based on the principles of self-initiative, controllability and gradualism," Wu told a group of US business leaders in Washington on Thursday.
"The flexibility of the yuan's exchange rate will be continuously increased through the reform, while being maintained at a basically stable, reasonable level," she said.
She added that a large appreciation could be harmful to China's economy and that exchange rates were not the main cause of the huge US trade deficit with China.
Earlier, Chinese central bank chief Zhou Xiaochuan, who is accompanying Wu Yi on the trip, said he believes the pace of reform of the yuan exchange rate "is good".
"We agree on the general direction of currency reform," Zhou told reporters Wednesday. "There is probably a little bit of difference on how fast we should go."
Since July 2005 when China's central bank de-linked the yuan with the US dollar, the value of the Chinese currency has risen more than 8 per cent.