A packed jetliner burst into flames Wednesday as it landed on Java island, killing 21 people, but more than 110 other people escaped the burning wreckage, many with severe burns, the airline and witnesses said.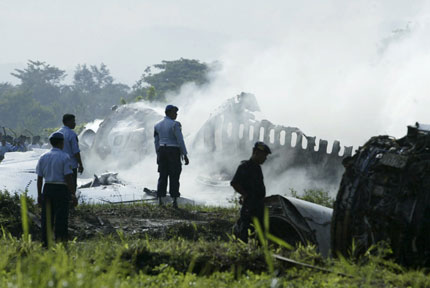 Rescue worker search the wreckage of a Garuda jet at Yogyakarta airport on March 7, 2007. Dozens of people escaped an inferno that erupted after the Indonesian passenger jet overshot the runway and burst into flames on landing in the cultural capital of Yogyakarta on Wednesday. [Reuters]


Australian Prime Minister John Howard said about 10 of his citizens were on board the Garuda airlines plane.
"It is a terrible tragedy," Howard told a nationally television news conference. "Many lives have been lost, and our love and sympathy and condolences go to those who are suffering distress and grief."
Garuda said in a statement that 21 people had died and that the other 119 passengers and crew survived and were being treated in hospital. It did not give their nationalities.
Earlier, Australia's prime minister said that Indonesian officials had confirmed that 49 people had died. It was unclear where he got the information from.
Television footage shot by a cameraman for Australia's Seven Network who survived the landing at Yogyakarta's international airport showed bloodied passengers stumbling through a rice field away from the plane, as black smoke, then orange flames, poured from the fuselage.
An explosion and fireball ripped through the air, apparently as the fire reached a fuel tank, the footage showed. It showed dazed and burned victims, including Indonesians and Westerners, sitting on the floor or lying on gurneys in the airport terminal.
The network said the cameraman shot the footage after escaping from the fire.
The Boeing 737-400 started shaking violently before landing at the airport and then overshot the runway, hitting fences and stopping in a rice field before 7 a.m. Some survivors said the fire began at the front the plane before engulfing the aircraft.
Many passengers escaped and rescuers battled flames to reach those trapped inside, said Capt. Ari Sapari, operations director of national carrier Garuda.
"Before the plane landed it was shaking. Suddenly there was smoke inside the fuselage, it hit the runway and then it landed in a rice field," local Islamic leader Dien Syamsudin told El-Shinta radio station. "I saw a foreigner. His clothes were on fire and I jumped from the emergency exit. Thank God I survived."
Another survivor told local TV station RCTI TV that "before landing I felt the plane shake strongly."
"We overshot the runway, then I heard the sound of an explosion and ran through an emergency exit," continued passenger Muhammad Dimyati. "I believe many passengers remained trapped on board."
The Australians on board were diplomatic staff and journalists who were traveling from the capital, Jakarta, ahead of Foreign Affairs Minister Alexander Downer and Attorney-General Phillip Ruddock, who had been due to attend a function later Wednesday. Neither official was aboard the stricken plane.
President Susilo Bambang Yudhoyono ordered a thorough investigation into the crash, appointing the security minister to look into possible "non-technical" causes, said spokesman Andi Mallarangengeng, in an apparent reference to sabotage.
"The president wants to make sure the investigation is complete. This would include technical and non-technical problems," Mallarangengeng said without elaborating.
Indonesia has been hit by a string of transportation disasters in recent months. In late December, a passenger ferry sank in a storm in the Java Sea, killing more than 400 people.
Days later, a passenger plane operated by the budget airline Adam Air crashed into the ocean, killing all 102 people on board. A ship that sank near the capital's port left at least 50 dead.
The government responded by saying it would ban local commercial airlines from operating planes more than 10 years old, though most experts say maintenance and the number of takeoffs and landings are the most important factors in preventing accidents.