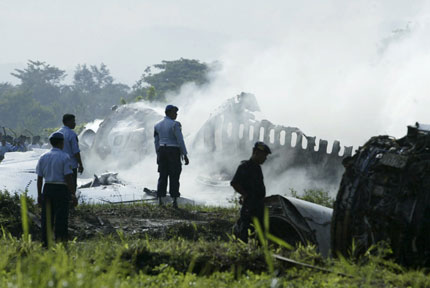 Rescue worker search the wreckage of a Garuda jet at Yogyakarta airport on March 7, 2007. Dozens of people escaped an inferno that erupted after the Indonesian passenger jet overshot the runway and burst into flames on landing in the cultural capital of Yogyakarta on Wednesday. [Reuters]


YOGYAKARTA, Indonesia - At least 49 people died but scores escaped after an Indonesian passenger jet overshot the runway and burst into flames on landing in the cultural capital of Yogyakarta on Wednesday.
Dozens of passengers leapt from the plane's emergency exists into rice paddy fields to escape the inferno, which reduced the plane to a smoldering wreck of twisted metal.
"We found 48 dead bodies at the spot. One person died at Sardjito hospital," provincial secretary Bambang Susanto told Reuters, referring to the city's main medical center.
Chief Garuda spokesman Pujobroto said flight GA 200 was a Boeing 737-400 plane carrying 133 passengers and seven crew when it crashed at around 7 a.m. (0000 GMT) after a scheduled flight from Jakarta.
Australian officials said the flight was carrying a large group of Australian diplomats, government officials and journalists who had been accompanying Foreign Minister Alexander Downer, who was not aboard, on an official visit to Indonesia.
Australia's Prime Minister John Howard said at least 10 citizens were on board and some remained unaccounted for, including one defense force liaison staffer and an Australian Federal Police officer.
Also missing was an embassy staffer traveling from Jakarta for Downer's visit.
However, Garuda's media office said the plane carried just eight Australians, as well as two Japanese, two Brunei nationals and seven other foreigners.
Howard said he had received no information that would suggest terrorism or sabotage was a factor in the disaster.
Yogyakarta, around 440 kms (270 miles) southeast of the capital, Jakarta, is known as the cultural heart of Indonesia and is very popular with tourists, although it is the off season at the moment.
DISASTER FOLLOWS DISASTER
The crash came a day after two powerful earthquakes hit the neighboring Indonesian island of Sumatra, killing at least 70 people.
Crash survivor Din Syamsudin, the head of Indonesia's second-largest Muslim organization, Muhammadiyah, told Elshinta news radio of his lucky escape.
"Some passengers wanted to get their hand luggage. I cried to them, 'Get out, get out'," he said.
"The plane was full of smoke. I just jumped from two meters high and landed in a rice field." He said the plane burst into flames soon after he escaped.
"I was sitting at the back of the plane and people started to jump out," Julianto, one of the survivors, told Metro TV.
"Many escaped the plane," he added.
Ruth Meigi Panggabean, who works for aid group World Vision, told Reuters that passengers had been warned it would be a turbulent flight.
"Upon landing, I could feel something irregular. As we approached the ground and I could see roofs from our window, the plane was still swaying and shaking."
"Then the plane was slammed to the ground and skidded forward and slammed once again before come to a stop," Panggabean said.
She said many people got out and under the circumstances "the passengers were fairly calm and the evacuation process was quite orderly."
Survivors were taken to a number of area hospitals.
"We are treating 10 to 15 passengers. They are all fine. An 8-months-pregant woman is o.k., and so is her baby," said Constantine, a nurse at Panti Rapih Hospital.
Indonesia has suffered from a string of transport accidents in recent months, including an Adam Air plane that disappeared in January with 102 passengers and crew on board, and a ferry sinking in late December in which hundreds died.
The series of accidents had sparked the government to set up special commissions to look at the state of transportation safety in the sprawling archipelago of 17,000 islands.