BAGHDAD, Iraq - Prime Minister Nouri al-Maliki complained Tuesday the long-awaited Baghdad security operation was off to a slow start and warned that insurgents are taking advantage of the delay to kill as many people as possible.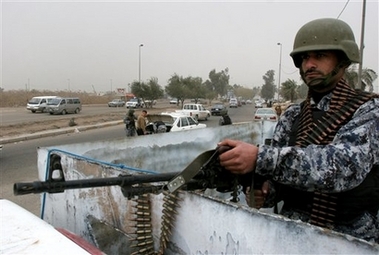 An Iraqi army soldier mans a machine gun as he controls traffic on a vehicle checkpoint near Baghdad's Shiite enclave of Sadr City, Iraq, Tuesday, Feb. 6, 2007. [AP]


But he also reassured Iraqis that security forces will live up to their responsibilities.

The statement came as new checkpoints were erected and increased vehicle inspections and foot patrols were reported in some neighborhoods - providing the main evidence so far that US and Iraqi forces were gearing up for a major neighborhood-to-neighborhood sweep to quell sectarian violence in the city of 6 million.

Underscoring the dangers as the US augments its force by 21,500 as part of the plan, the US military announced the deaths of two more troops, including a soldier who was killed Tuesday by small arms fire at a security post southwest of Baghdad, and a Marine who died Monday in Anbar province, west of the capital.

At least 51 Iraqis also were killed or found dead around the country, including eight slain by two car bombs in Baghdad.

"The operations will unite us and we will take action soon, God willing, even though I believe we've been very late and this delay has started to give a negative message," al-Maliki said in a meeting with military commanders shown on state TV. "I hope that more efforts will be exerted and more speed exerted in carrying out and achieving all the preparations to start the operations."

Al-Maliki urged his commanders to step up efforts to complete the preparations for the security plan, saying the delays had allowed insurgents to step up attacks that have killed hundreds in recent weeks.

"I say again, we have talked much about the operations, and while the Iraqis are waiting and waiting, the terrorists in turn have raised the level of the bombing operations and started killing people in mass numbers," the prime minister told his commanders, urging them to step up efforts to complete the preparations. "Our slogan should be 'rest is prohibited, especially for military men, and day and night should merge in working to achieve victory.'"

"We should carry out the operation in good time and should not delay, because the delay will be used against us by the enemies ... and those who are afraid of them," he added.

Defense Secretary Robert Gates said the increase in US forces in Iraq is "not the last chance" to succeed and conceded he was considering what steps to take if the buildup fails.

"I would be irresponsible if I weren't thinking about what the alternatives might be," he told the Senate Armed Services Committee.

Gates said the operation was to have started Monday. "It's probably going to slip a few days, and it's probably going to be a rolling implementation," he said.

In other violence, Iraqi police found the bullet-riddled bodies of 33 people - 19 in Baghdad - apparent victims of sectarian death squads.

The Shiite-led Iraqi government has pledged to go after the mainly Shiite militias largely blamed for such killings as well as Sunni insurgents suspected in most of the bombings, including a suicide attack on a Baghdad food market Saturday that killed at least 137 people.

| | | |
| --- | --- | --- |
| 1 | 2 | |