BAGHDAD, Iraq - US-backed Iraqi troops on Sunday attacked insurgents allegedly plotting to kill pilgrims at a major Shiite Muslim religious festival, and an Iraqi official estimated some 300 militants died in the daylong battle near Najaf. A US helicopter crashed during the fight, killing two American soldiers.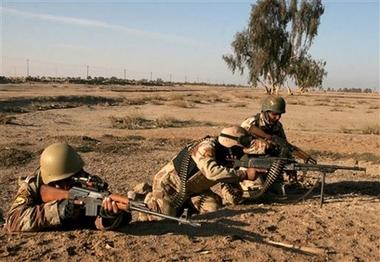 Iraqi soldiers take up positions at Zarqa, 20 kilometers (12 miles) northeast of Najaf, Iraq, Sunday Jan. 28, 2007.Iraqi soldiers take up positions at Zarqa, 20 kilometers (12 miles) northeast of Najaf, Iraq, Sunday Jan. 28, 2007.[AP]


Mortar shells, meanwhile, hit the courtyard of a girls' school in a mostly Sunni Arab neighborhood of Baghdad, killing five pupils and wounding 20. UN officials deplored the attack, calling the apparent targeting of children "an unforgivable crime."

Some 300 militants were killed in the Najaf fighting, along with five Iraqi security forces, a provincial spokesman said Monday, citing reports from officers at the site. The figure could not be independently confirmed.

Ahmed Deaibil, a spokesman for Najaf province, said the fighting had stopped but US and Iraqi forces still had the area surrounded and had seized heavy machine guns, ammunition and other weapons.

He said 300 militants had been killed and 13 arrested, while the casualty toll for Iraqi forces was three soldiers and two policemen killed and 30 wounded. Iraqi security officials said earlier that one Sudanese was among the fighters captured.

Two car bombs exploded within a half hour in the northern city of Kirkuk, killing 11 people and wounding 34, police Brig. Gen. Sarhad Qader said. Three ethnic groups - Arabs, Kurds and Turkomen - are in a bitter struggle for control of that oil-rich area.

In addition to confirming the two Americans killed in the helicopter crash near Najaf, the US command announced three combat deaths from Saturday - one Marine in the Sunni insurgent stronghold of Anbar province and two Army soldiers in the Baghdad area.

Authorities said Iraqi soldiers supported by US aircraft fought all day with a large group of insurgents in the Zaraq area, about 12 miles northeast of the Shiite holy city of Najaf.

Provincial Gov. Assad Sultan Abu Kilel said the assault was launched because the insurgents planned to attack Shiite pilgrims and clerics during ceremonies marking Ashoura, the holiest day in the Shiite calendar commemorating the 7th century death of Imam Hussein. The celebration culminates Tuesday in huge public processions in Karbala and other Shiite cities.

Officials were unclear about the religious affiliation of the militants. Although Sunni Arabs have been the main force behind insurgent groups, there are a number of Shiite militant and splinter groups that have clashed from time to time with the government.

raqi soldiers attacked at dawn and militants hiding in orchards fought back with automatic weapons, sniper rifles and rockets, the governor said. He said the insurgents were members of a previously unknown group called the Army of Heaven.

| | | |
| --- | --- | --- |
| 1 | 2 | |