BAGHDAD, Iraq - Saddam Hussein's lawyer made a last-ditch effort to impede his execution Thursday, beseeching world leaders to prevent the United States from handing over the ousted leader to Iraqi authorities who plan to hang him.
The plea from Saddam's attorney came as the US military reported the deaths of five more troops and announced that Iraqi forces, backed by American forces, captured an al-Qaida in Iraq cell leader believed responsible for the June kidnapping of two soldiers who were found tortured and killed.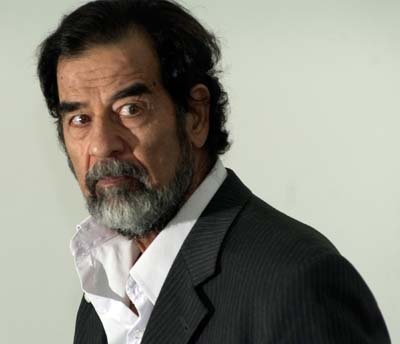 A handout photograph released by the Iraqi Special Tribunal on August 23, 2005, shows former Iraqi president Saddam Hussein being questioned by Chief Investigative Judge Ra'id Juhi, at an undisclosed location. [Reuters]

With at least 72 more Iraqis killed in sectarian violence, U.S. officials and Iraqis expressed concern about the potential for even worse bloodshed following Saddam's execution. The lawyer, Khalil al-Dulaimi, said transferring Saddam to Iraqi authorities could be the trigger.

"If the American administration insists in handing the president to the Iraqis, it would commit a great strategic mistake which would lead to the escalation of the violence in Iraq and the eruption of a destructive civil war," al-Dulaimi said in a telephone interview.

Iraq's highest court on Tuesday rejected Saddam's appeal against his conviction and death sentence for the killing of 148 Shiites in the northern city of Dujail in 1982. The court said the former president should be hanged within 30 days.

The White House was preparing for Saddam's execution as early as this weekend, based on information that U.S. officials in Baghdad were receiving from the Iraqi government, a senior administration official said in Washington.

But Iraq's deputy justice minister, Bosho Ibrahim, said Saddam shouldn't be hanged for another few weeks. "The law does not say within 30 days, it says after the lapse of 30 days," Ibrahim said.

He did not explain the discrepancy between his interpretation and the court's, nor could he give a specific execution date.

Al-Dulaimi, Saddam's lawyer, said the ousted leader should enjoy protection from his enemies as a "prisoner of war" and remain in U.S. custody.

"According to the international conventions, it is forbidden to hand a prisoner of war to his adversary," al-Dulaimi said.