BAGHDAD, Iraq - Saddam Hussein urged Iraqis to embrace "brotherly coexistence" and not to hate US-led foreign troops in a goodbye letter posted on a Web site Wednesday, a day after Iraq's highest court upheld his death sentence and ordered him hanged within 30 days.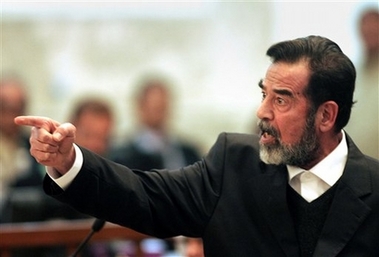 Former Iraqi president Saddam Hussein gestures during his trial in Baghdad, in this Jan. 29, 2006 file photo. [AP]


A top government official, meanwhile, said Saddam's execution could proceed without the approval of Iraq's president, meaning there were no more legal obstacles to sending the deposed dictator to the gallows.

One of Saddam's attorneys, Issam Ghazzawi, confirmed to The Associated Press in Jordan that the Internet letter was authentic, saying it was written by Saddam on Nov. 5 ¡ª the day he was convicted by an Iraqi tribunal for ordering the 1982 killings of 148 Shiite Muslims in Dujail.

"I call on you not to hate because hate does not leave space for a person to be fair and it makes you blind and closes all doors of thinking," said the letter, which was written in Arabic and translated by the AP.

"I also call on you not to hate the people of the other countries that attacked us," it added, referring to the invasion that toppled his regime nearly four years ago.

Against the backdrop of sectarian killings that have dragged Sunni Arabs and Shiite Muslims into civil warfare over the past year, Saddam urged his countrymen to "remember that God has enabled you to become an example of love, forgiveness and brotherly coexistence."

But he also voiced support for the Sunni Arab-dominated insurgency, saying: "Long live jihad and the mujahedeen." He urged Iraqis to be patient and rely on God's help in fighting "against the unjust nations."

Saddam said he was giving his life for his country as part of that struggle. "Here, I offer my soul to God as a sacrifice, and if he wants, he will send it to heaven with the martyrs," he said.

Violence struck Baghdad again Wednesday, with a car bomb killing eight civilians and wounding 10 near an Iraqi army checkpoint. Four more civilians died in a mortar attack in a Shiite neighborhood, and police found the bodies of 51 apparent victims of sectarian killings.

Questions had arisen about whether the appeals court's ruling needed to be approved by the Iraqi presidency, which customarily signs off on death sentences.

Busho Ibrahim, deputy justice minister, said it wasn't necessary. "According to the legal provisions of the court, there is no need for the approval of the presidency," he said.

A spokesman for President Jalal Talabani acknowledged the legal argument that the execution could go ahead without ratification by the president, who has expressed opposition to the death penalty.

"Some people believe there is no need for his approval," spokesman Hiwa Osman said. "We still have to hear from the court as to how the procedure can be carried out."

An official from Prime Minister Nouri al-Maliki's Dawa Party, speaking on condition of anonymity because he was not authorized to talk to the media, said that "the government wants Saddam executed as soon as possible."

Another official close to al-Maliki, who also refused to be quoted by name, said the execution would take place before the end of the 30-day period.

Saddam will remain in a US military prison near the airport, Camp Cropper, until the day of the execution, at which point he will be handed over to Iraqi authorities, the official said.

Ghazzawi, the defense lawyer, said the letter by Saddam was released Tuesday and published Wednesday on the Web site of Saddam's former Baath Party.

| | | |
| --- | --- | --- |
| 1 | 2 | |