DPRK urged to quit atomic programs
(AP)
Updated: 2006-10-07 08:52
UNITED NATIONS - With speculation mounting of a North Korean nuclear test as early as this weekend, a unanimous U.N. Security Council urged the nation Friday to abandon all atomic weapons as it promised last year and cancel plans to detonate a device. Japan hinted North Korea could face sanctions or possible military action.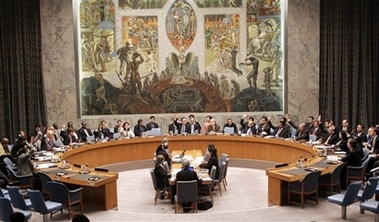 Members of the Security Council of United Nations vote during a meeting regarding North Korea at U.N. Headquarters in New York Friday, Oct. 6, 2006. The Security Council urged North Korea on Friday to cancel a planned nuclear test and return immediately to talks on scrapping its nuclear weapons program, saying that exploding such a device would threaten international peace and security. [AP]
A statement adopted by the council expresses "deep concern" over North Korea's announcement that it planned a test - which would confirm strong suspicions it is a nuclear power - and warns Pyongyang of unspecified consequences if it carries through. The message also urges North Korea to return to six-party talks on scrapping its nuclear weapons program.
With tensions rising, North Korean leader Kim Jong Il met hundreds of his top military commanders and urged them to bolster the nation's defenses, as officers cheered, "Fight at the cost of our lives!" the nation's official Korean Central News Agency reported earlier Friday.
A North Korea expert in China, said only the removal of American economic sanctions against Pyongyang could dissuade the country from carrying out a nuclear test.
"North Korea has already made a decision to carry out a test," said Li Dunqiu, of China's State Council Development Research Center, a Cabinet-level think tank. But "if the U.S. removes sanctions ... then tensions can be eased. Otherwise launching a nuclear test is unavoidable for North Korea."
The United States imposed economic sanctions on North Korea last year to punish it for alleged counterfeiting and money laundering. For the last 13 months, North Korea has boycotted six-nation talks aimed at persuading it to abandon its nuclear ambitions.
North Korea said Tuesday it decided to act in the face of what it claimed was "the U.S. extreme threat of a nuclear war," but gave no date for the test. Washington has repeatedly said it has no intention of invading North Korea.