JERUSALEM - After a stormy debate Sunday, Israel's Cabinet approved a Mideast cease-fire, agreeing to silence the army's guns in less than 24 hours. The Israeli military embarked on a last-minute push to devastate Hezbollah guerrillas, rocketing south Beirut with at least 20 missiles.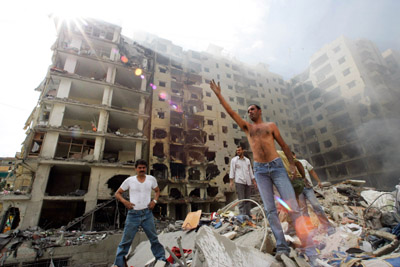 A man shouts as he stands on the rubble of a building destroyed after an Israeli air raid in a southern suburb of Beirut August 13, 2006. [Reuters]


The 24-0 vote, with one abstention, came a day after the Lebanese government approved the agreement, and Hezbollah leader Hassan Nasrallah gave his grudging consent. The truce was to take effect Monday morning.

As the vote took place, Israeli shells slammed into the hard-hit Dahiyeh suburb, a Hezbollah stronghold just south of Beirut, Lebanese television stations said. Al-Arabiya said several buildings were destroyed.

Earlier Sunday, Israeli warplanes fired missiles into gasoline stations in the southern port city of Tyre, killing at least ten people in those and other attacks. Fierce ground fighting involving 30,000 Israeli troops continued in the south, where Israel lost 24 soldiers Saturday, including five on a helicopter shot out of the air by guerrillas.

In Jerusalem, a heated debate erupted during the Cabinet session, with minister Ofir Pines-Paz criticizing the government's decision to order an expanded ground offensive in the days before the cease-fire is to take effect.

Israeli Prime Minister Ehud Olmert immediately praised the Cabinet's decision, saying "Hezbollah won't continue to exist as a state within a state."

"The Lebanese government is our address for every problem or violation of the agreement," Army Radio quotes him as saying.

The cease-fire was to go into effect at 8 a.m Monday. After a halt in fighting, some 15,000 Lebanese troops and an equal number of U.N. forces were to be deployed in south Lebanon and create a Hezbollah-free zone, from the Israel-Lebanon border to Lebanon's Litani River, some 18 miles from the border.

Israel said it hopes Lebanese troops will start deploying quickly, within a week or two.

"When the Lebanese and multinational force enters, Israel will withdraw and not before," Israeli Cabinet minister Yaacov Edri said after the Cabinet vote.

Former Defense Minister Shaul Mofaz abstained in the vote, said a senior government official who spoke on condition of anonymity.