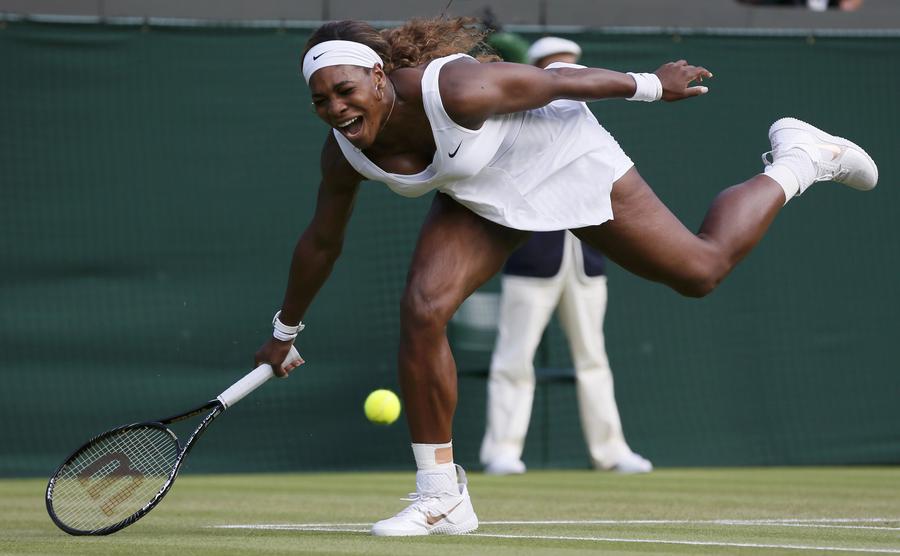 Serena Williams of the US reacts as she fails to reach a shot during her women's singles tennis match against Alize Cornet of France at the Wimbledon Tennis Championships, in London June 28, 2014. [Photo/Agencies]
LONDON - All of a sudden, Serena Williams is failing to stick around for long at Grand Slam tournaments.
Betrayed by her backhand and, more surprisingly, her usually dangerous serve, five-time Wimbledon champion Williams lost to 25th-seeded Alize Cornet of France 1-6, 6-3, 6-4 Saturday in the third round at the All-England Club.
"If I'm not playing a great, great match, these girls, when they play me, they play as if they're on the ATP Tour, and then they play other girls completely different," Williams said, rolling her eyes. "It's never easy being in my shoes."
It's her earliest exit at the All-England Club since 2005, when she also was beaten in the third round. Williams won the title in 2002, 2003, 2009, 2010 and 2012.
"I don't know how I did it," Cornet said. "Just with my heart - and the help of the crowd."
The No 1-ranked and No 1-seeded Williams owns 17 Grand Slam titles, one fewer than Martina Navratilova and Chris Evert, but she now has departed before the quarterfinals at four of the past five majors. There were fourth-round losses at Wimbledon last year and at the Australian Open in January, and a second-round loss at the French Open in May.
"Australia, I just couldn't play. And Paris I played really bad. Here, I actually thought I played better," she said. "I'm going to have to watch this film."
Cornet also beat the 32-year-old American at the Dubai Championships in February. Still, this result was rather unexpected, given their Grand Slam careers. Cornet never had been past the third round at Wimbledon, and she only once before reached a major's fourth round, in 2009.
Saturday's match was halted in the third game because of rain. After a delay of about 4 1/2 hours, Williams was terrific, reeling off five games to grab the first set.
Things changed dramatically. Cornet began putting shots right where she wanted them, while Williams had trouble finding the mark. Williams wound up with 29 unforced errors, 11 more than Cornet.